LG seems to have had a rather busy July. Well before launching its flagship
Optimus 4X HD
though, the Korean manufacturer had launched the successor to its first "glasses-free 3D" handset,
the Optimus 3D.
Does it live up to the hype, or will the 3D Max be just another expensive marketing gimmick? Let's find out.
Design And Build Quality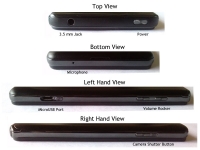 The retail box comes with the phone, charger with detachable USB cable, earphones and an instruction manual. The handset measures 5" (l) x 2.7" (w) x 0.4" (10 mm) (d), and weighs around 148 grammes. It sports a wide bezel and looks quite rugged, with a matte plastic back panel that is easy to hold. Even so, the phone is a little too big for my liking, being difficult to use with one hand. Here is the full specs list:
GSM quad-band (850/900/1800/1900 MHz) tri-band 3G (900 \ 1900 \ 2100 MHz).
Android 2.3 (Gingerbread) with 1.2 GHz dual-core, dual-channel CPU and 1 GB RAM.
4.3" capacitive screen with dimensions of 480x800, featuring Nova Plus 3D stereoscopic display technology (doesn't require 3D glasses).
2 x 5 mp main camera (shoots at 3 mp in 3D) with auto-focus and LED flash, VGA front camera; 1080p video recording @ 30 fps (720p in 3D).
FM with speakerphone output, voice recording feature, playback supports MP3, AAC, AAC+, E-AAC+, WAV, WMA, OGG (Vorbis), AMR (NB, WB), MIDI.
Wi-Fi, Bluetooth 3.0, DLNA, USB 2.0, GPS with A-GPS, and 3.5 mm jack.
6.5 GB internal storage, 32 GB microSD card slot.
1520 mAh battery providing a talk time of 17.5 hours on 2G and 9 hours on 3G.
3D Performance
The smartphone's 4.3"
Nova Plus 3D stereoscopic LCD
panel, which has pixel dimensions of 480x800, is bright and sharp with decent viewing angles. The display's sunlight legibility is strictly average though. Regardless, the highlight of the handset is of course the fact that it offers a "glasses-free, full 3D experience". Apart from the bundled 3D content that includes games and videos, the phone also provides a 3D converter that lets you transform 2D content (even games) to 3D. More on that later. First, you might want to read more
about Lenticular 3D here
, to get an idea of how exactly the 3D Max performs its magic of producing a 3D image without the use of special glasses.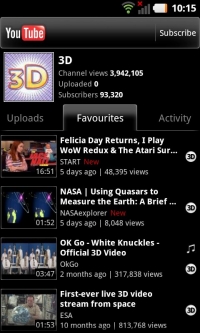 With all glassless 3D displays, whenever the screen loads a new three-dimensional image, your eyes need a few seconds to adjust to the picture. It might take some time to get used get used to viewing the screen this way, and the effect will vary depending on the person. Some are more perceptive to 3D, while for others, it tends to cause disorientation and even nausea. This is a limitation of the technology itself, so there is little that can be done about it. Even so, the handset's 3D implementation isn't too impressive either. Images seems to "shake" a little bit, as if the 3D picture has not been fully formed. While this is common with glassless 3D displays, the smartphone tends to be more prone to this glitch. What's worse, the 3D depth isn't all that pronounced. In this department,
HTC's Evo 3D,
which also has a glassless display, comes with a much better three-dimensional image quality.
In an effort to justify its price tag, the smartphone comes preloaded with quite an impressive collection of apps and 3D content. This includes 3D games, the aforementioned converter, access to YouTube's 3D channel, and a 3D camera. Starting off with the game convertor, I tried transforming the 2D games Angry Birds, Temple Run, and Fruit Ninja to 3D. Unfortunately, the effect is nothing to write home about. While the convertor did manage to add a bit of depth to Angry Birds, in Fruit Ninja, the fruits on the screen appeared with jagged edges. Finally, the convertor couldn't work with Temple Run because you need to hold the phone vertically (in the portrait mode) while playing this game, while the converter only works in landscape mode. On the whole though, the transformation seems like just a gimmick, and I didn't see anything spectacular about it.
The YouTube 3D app directs you to YouTube's 3D channel. While it might not be much compared to the vast 2D library on the video-sharing website, there is still plenty here to keep you entertained, and the amount of user-created 3D content is growing by the day. In that sense, this app is a hit.

Moving on to the bundled games, the handset gives you access to full-3D games such as Asphalt 6, Let's Golf 2, N.O.V.A, and Gulliver's Travels, the last of which is actually an interactive 3D book. Except for Gulliver's Travels, which runs out of the box, each game needs to download some data before it can be played. While the download itself is free, it's a little inconvenient, especially considering that since the phone itself has ample internal storage, the data could have been included by LG right at the outset.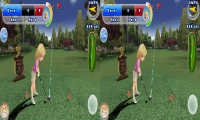 Gulliver's Travels recounts the popular children's tale in the style of a pop-up 3D book. While its visuals have been very well executed, it lacks narration of any sort — either audio or text. While most people are aware of the story, the absence of this feature makes the book feel half-hearted and incomplete. Let's Golf 2 provides the best 3D experience of the lot, probably because being slow-paced, my eyes found it much easier to adjust to the 3D. Not to say that the game is in any way boring — on the contrary, it's quite addictive. Asphalt 6 also displays a decent stereoscopic effect, and is eminently playable. On the other hand, I found N.O.V.A. to be quite disorienting, since this FPS requires quick hand movements that end up disturbing the ideal angle necessary to view the game in 3D. This is made worse by the phone's narrow viewing angle when it comes to 3D. While HTC's Evo 3D also suffered from a similar problem with FPS games, it wasn't that pronounced due to its larger viewing angles.
In effect, when it comes to gaming, the slower the pace, the better the effect.
Google's Play Store
has a little over 15 3D titles as of this writing, which should be good enough to keep you occupied for a while.
UI, Applications, And Multimedia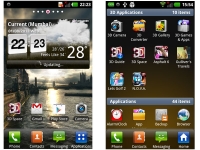 The phone comes with LG's custom UI that runs on top of
Gingerbread
. However, at this price point, expecting a better-designed interface and a newer OS (
Ice Cream Sandwich
) is not unjustified. Considering that this is a 3D phone though, its chances of getting an ICS update seem rather slim, since all of the 3D software will have to be reworked to be compatible with ICS. Considering the limited appeal of 3D devices, it's unlikely that LG will take the trouble of issuing an upgrade.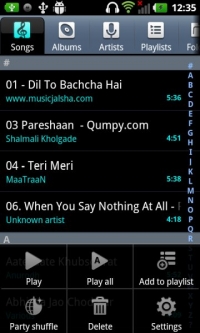 The handset features the stock
Android webkit browser
that isn't too fancy, but gets the job done. It offers
Flash 10
support, so you can watch web videos without any issues. The music player sports a clean interface and offers quite a few equaliser settings. The device supports MP3, AAC, WAV, WMA, OGG, AMR, and MIDI formats. The sound quality is decent too, and gets even better when you turn on the
Dolby Mobile
option (similar to
HP's Beats Audio
, only better). The bundled IEMs (In-Ear Monitors) are up to the mark as well.
The 3D Max plays 1080p videos without any stutter, even when converted into 3D. It can also play AVI and MP4 files with support for several codecs out of the box, which is a good thing. Considering its 4.3" screen size, the handset is quite suitable for watching movies.
Moving on to the most interesting feature of the device: its 3D camera. The handset comes with a front-facing VGA camera for video calling, but the star of the show is its dual 5 mp snapper with LED flash. It includes features such as face tracking, auto-focus, continuous shot mode, image editing with auto filters, and geotagging. In burst mode (2D camera only), the camera manages six shots in well under three seconds.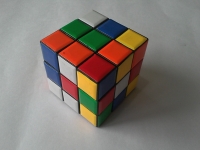 In 2D photography mode, although the captured images offer a good level of detail, they are marred by excessive noise. Worse, low-light shots aren't even worth a mention. On the bright side, you can take snaps and switch between 2D and 3D modes at will after the capture is complete. While the camera's 3D performance is impressive, the object needs to be farther away than 15 metres for a crisp output, otherwise you'll just end up with an overlay of two distinct images.
In 2D video mode, you can record 1080p video at 30 fps, which gets reduced to 720p in 3D mode. The resultant MP4 clips contain a good amount of detail, and the playback is very smooth.
Click here to view the 2D video sample
. Note that the 3D video will only appear as overlapping images when viewed on a normal computer screen. To view such videos in 3D, you will need to play the clip on a a 3D-enabled display.
Click here to view the 3D video sample
. If you don't have 3D glasses, you can
make one for yourself
instead.

Telephony, Messaging, Battery Life, And Verdict
The device's signal reception was good throughout the test process, as was the voice quality. As for messaging, like in all touchscreen phones, the portrait keyboard feels a bit cramped. On the other hand, in landscape mode, the keys take away more than half the screen space. Being a messaging junkie, I'm not a big fan of touchscreen keys, and the lack of a predictive text feature makes it all the more annoying.

Coming to the battery, the smartphone's normal-sized 1520 mAh unit managed to keep the device running for around a day under normal use that including a brief spot of gaming, which is decent by Android standards.
In conclusion, the LG Optimus 3D Max's USP without a doubt is its stereoscopic 3D camera. However the phone's odd size and old Gingerbread OS coupled with a boring UI, weighs it down. Even though this is one of the few glasses-free 3D handsets in the market today, its average performance doesn't justify the hefty price tag. If you're specifically looking for a 3D-enabled handset (despite the whole technology being more or less a gimmick), I'd suggest HTC's Evo 3D instead, which has all of the same features, a better performance, and a
reduced price of Rs 23,000
.
Features: 4/5
Design And Build Quality: 4/5
Performance: 3.5/5
Value For Money: 2.5/5
Mojo: 3.5/5

Overall Rating: 3.5/5