Introduction
The Samsung Galaxy Express represents an interesting mix of features. The latest Jelly Bean flavor, the impressively fast processor, the LTE connectivity, the spectacular 4.5-inch Super AMOLED Plus screen, and the Galaxy S III looks are all attention-grabbers.
Yet, the Galaxy Express only offers a 5MP camera with 720p video and the screen is only of WVGA resolution. As usual, unless you go for the flagship, it's always a question of compromises in the midrange and the Galaxy Express is yet another mix of gives and takes, which would hopefully satisfy a good part of the consumers.
Ever since Qualcomm's dual-core Krait made its debut on the HTC One S, it has been making the headlines with its top-notch performance at a decidedly more affordable price point. While other chipsets have since narrowed the performance margin, the Krait architecture continues to be one of the most successful chipsets around, particularly in the dual-core arena.
However, despite its proven track record, Krait-powered Android Galaxy smartphones are as rare to find as two-headed snakes, especially outside the US. Samsung released an AT&T variant of the Express this past November, which is part of a growing family dual-core Krait devices available for the US market.
Now Samsung seems finally ready to test out the processor in international waters, and the I8730 Galaxy Express is its first such foray. Let's take a look at what it brings to the table:
Key features
Quad-band GSM, 3G, and LTE support
21.1 Mbps HSDPA and 5.76 Mbps HSUPA support
4.5" 16M-color Super AMOLED Plus capacitive touchscreen of WVGA (480 x 800 pixel) resolution
Android OS 4.1.2 Jelly Bean with Nature UX
1.2 GHz dual-core Qualcomm MSM8930 Krait CPU, Adreno 305 GPU, 1GB of RAM
5MP autofocus camera with LED flash, face and smile detection, image stabilization
1.3MP secondary camera
720p HD video recording at 30fps with stereo sound
Wi-Fi 802.11 a/b/g/n support; DLNA and Wi-Fi hotspot
GPS with A-GPS connectivity and GLONASS; digital compass
8GB of inbuilt storage, microSD slot
Accelerometer, gyroscope and proximity sensor
Standard 3.5 mm audio jack
microUSB v2.0 port with MHL
Stereo Bluetooth v4.0
FM radio with RDS
Great benchmark performance for its class
Main disadvantages
No dedicated camera key
Preinstalled video player lacks DivX video support
Poor low-light camera performance
WVGA resolution wears thin on the 4.5" screen
The included Jelly Bean update makes the Galaxy Express I8730 a bit more than a simple rehash of the AT&T's version, which is still stuck on Ice Cream Sandwich. We also shouldn't forget AT&T's propensity to include a good amount of carrier bloatware in the form of preinstalled apps and services, which bring down the user-available storage in the US version from 8GB to 5GB.
And although the dual-core Krait in the I8730 is downclocked to 1.2GHz (compared to 1.5GHz on the I437 Express for AT&T), the updated Android experience should still provide you with a better out of box experience than what you'd find Stateside. Plus, the lower CPU clock will certainly go easier on the battery.
Anyway, we'll go more in-depth with what you can expect from software point of view a bit further in our review. Up next, we'll get started with our usual hardware tour.
Samsung I8730 Galaxy Express 360-degree spin
The Galaxy Express has the trademark white paintjob we've come to associate all new Android-powered Samsung's ever since the S III came out. It measures 132.2 x 69.1 x 9.3mm, which is marginally smaller but thicker than the US variant.
Weight-wise, it is a negligible 3.1g heavier, but it's still the same slim handset that's pretty comfortable to handle and easy to pocket.
Design and build quality
The Samsung Galaxy Express design is a pretty strong reference to its standing in the pecking order. It has borrowed heavily of the Galaxy S III design and finish, which results in a surprisingly good feel. And while looks are strictly a matter of personal preference, the good grip and the fingerprint-resistance are not - and they are both present here.
The Galaxy Express back tends to become more slippery, the more you handle it. While the 4.5 inch screen is manageable, it lies on that tricky precipice between too large and just right, depending on your preference.
As far as durability goes, the Samsung's hyperglaze coating has performed very well since its inception on the S III, so we have no reason to believe the paintjob will fade or chip anytime soon.
Controls and ergonomics
The controls on the Samsung Galaxy Express are more or less identical to what's become a proven formula for Samsung since the S III. Below the screen we find the same three keys as on other Galaxy's - the capacitive Menu and Back buttons either side of a hardware Home key, which can be set to either always illuminate or just when you interact with them (or the screen).
The white paintjob can make them a little harder to see than on a darker finish.
The keys are well-sized and spaced to allow for comfortable use and the capacitive touch technology makes sure the transition between them and the screen is seamless.
Above the display we have the earpiece, as well as the proximity sensor. There's an ambient light sensor to to control automatic brightness. There's a 1.3 megapixel front-facing camera for video calling as well.
The 3.5mm headphone jack is at the top of the phone. There's also a secondary microphone, which allows stereo sound recording in videos.
At the bottom are the microUSB port and the mouthpiece. The microUSB port supports MHL, enabling HD video out and multi-channel audio output.
On the left side of the Samsung I8730 Galaxy Express we find the volume rocker, while the power/lock key is symmetrically placed across on the right. There's no dedicated camera shutter key.
The 5 megapixel camera lens and the single LED flash can be found on the back, alongside a loudspeaker grille in the bottom right corner.
The back panel comes off easily, and underneath you'll find a microSD card slot which is hot-swappable, and a micro-SIM card slot, which is not.
Samsung have included a respectable 2000 mAh battery with the Galaxy Express, and its performance is very good indeed - the Express was able to reach a score of a whopping 59 hours.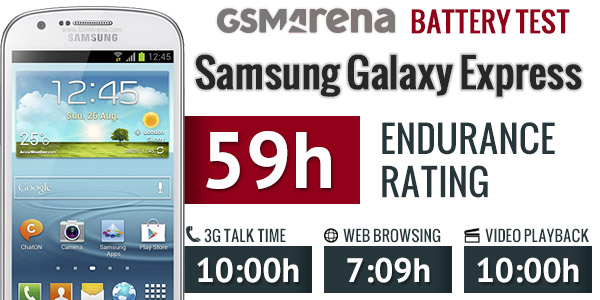 Display
The Samsung Galaxy Express employs the same 4.5" Super AMOLED Plus screen as the AT&T version. This means you can count on excellent viewing angles, as well as sky-high contrast and reasonable brightness levels.
The WVGA resolution is stretched a bit thin on the 4.5" display, making for a pixel density of just 207ppi, but it's by no means bad to look at. Of course, those 720p and 1080p monsters out there look way sharper, but this one is pretty crisp, too.
Sunlight legibility is nothing short of great, too. Check out how the Galaxy Express did in our dedicated sunlight legibility test.
Display test
50% brightness
100% brightness
Black, cd/m2
White, cd/m2
Contrast ratio
Black, cd/m2
White, cd/m2
Contrast ratio
Samsung I8730 Galaxy Express
0
201
∞
0
364
∞
HTC Butterfly
0.14
173
1200
0.45
501
1104
Sony Xperia Z
-
-
-
0.70
492
705
Oppo Find 5
0.17
176
1123
0.51
565
1107
Sony Xperia S
-
-
-
0.48
495
1038
Samsung I9300 Galaxy S III
0
174
∞
0
330
∞
HTC One X
0.15
200
1375
0.39
550
1410
Nokia Lumia 920
-
-
-
0.48
513
1065
Nexus 4
0.22
314
1447
0.45
608
1341
LG Optimus G
0.14
197
1445
0.33
417
1438
Apple iPhone 5
0.13
200
1490
0.48
640
1320
Contrast Ratio
You can find more information on our display test
here
.
Sunlight contrast ratio
Nokia 808 PureView

4.698

Samsung Omnia W

3.301

Samsung Galaxy S

3.155

Nokia N9

3.069

Samsung Galaxy Note

2.970

HTC One S

2.901

Samsung Galaxy Express

2.861

Samsung Galaxy S II

2.832

Samsung Galaxy S II Plus

2.801

Huawei Ascend P1

2.655

Nokia Lumia 900

2.562

Sony Xperia Z

2.462

Samsung Galaxy mini 2

1.114
Handling
Overall, the Samsung I8730 Galaxy Express is a phone of commendable ergonomics. Slim and lightweight, it's pretty easy to handle and slips comfortably into pockets. The grip is somewhat compromised due to the slightly larger screen, but shouldn't be much of a problem for the average (male?) user.
Nature UX powered by Krait
The Samsung Galaxy Express runs Android 4.1.2 Jelly Bean out of the box, skinned with the latest TouchWiz launcher, dubbed Nature UX. The user interface is basically identical to that of the recently-released Galaxy S III mini, Galaxy S II Plus, and Galaxy Grand: all have the same Android version and screen resolution.
Beyond the obvious benefits to the user experience compared to stock Android, the I8370 Galaxy Express takes advantage of the same premium combination that powers the Galaxy S III and the Galaxy Note II.
The lockscreen is a standard "tap and drag in any direction to unlock" affair and there're ripples accompanied by water-drop sound as you drag your finger. There are a number unlock routines to choose from: motion, face and voice among others.
There're three customizable lockscreen shortcuts (down from five on the bigger S III and Note II), and you can drag one to activate the corresponding app.
The dock at the bottom of the homescreen fits five custom shortcuts or folders. The rightmost one always opens the app drawer, but the other four can be set to any shortcut or even a folder.
As usual, you can pinch to zoom out and manage homescreen panes - add, delete or just reorder them. You can have 7 panes at most, which are enough to fit plenty of content even if you use widgets that cover an entire pane.
The notification area is quite feature-rich and offers quick toggles for Wi-Fi, GPS, Silent mode, Screen rotation, Bluetooth. You can swipe to the side to get even more: Mobile data, Blocking mode, Power saving and Sync.
Below the toggles is the brightness slider (there's no automatic brightness toggle here though). There are also a couple of other useful things like the Settings shortcut in the upper right corner, the time/date to its left and the carrier name at the bottom.
In Jelly Bean, you get expandable notifications to get more info about them. They can be expanded and collapsed with a two-finger swipe and the top one is expanded by default (if the app that put up the notification supports it, of course).
The app drawer accommodates both app shortcuts and widgets. Unlike stock Android, you cannot move between tabs by swipes - you have to explicitly hit the widget tab. Some will find this more logical (scrolling past the available apps to find yourself in the widgets takes some getting used to).
Using pinch-to-zoom reveals an overview of the pages and lets you rearrange them, but you can't create new ones. Hitting the menu key reveals some more options, including hiding apps or enabling tap-to-uninstall mode.
The app drawer has three view modes: a Customizable grid (where you can freely rearrange icons), Alphabetical grid and Alphabetical list (this one makes shortcuts easy to hit, but isn't very space efficient). You can also view just the downloaded apps by hitting the Downloaded apps icon.
Jelly Bean comes with a selection of widgets, with some custom additions by Samsung. Some widgets are resizable too - a feature we've seen in some custom UIs is available natively in Jelly Bean. Widgets automatically move out of the way when you're reorganizing the homescreen.
Once you get several apps running, you can use the task switcher to go back and forth between them. It's a Jelly Bean-style vertical list with a screenshot and a name for each app. A sideways swipe removes the app from the list.
There are three buttons at the bottom of the list - one to bring out Samsung's home-brewed task manager, one to launch Google Now and a 'Kill all apps' button.
Overall, the Nature UX on top of Android 4.1 looks great and the Galaxy Express does pack most of the cool software tricks of the flagship Galaxy S III.
And despite the lack of a quad-core chipset, the Galaxy Express handles the heavy Samsung skin equally well. It wouldn't choke on heavy live wallpaper either.
Synthetic benchmarks
Like we mentioned in the intro, the I8730 Galaxy Express is the first internationally available Galaxy to feature a dual-core Krait CPU. Qualcomm's processor has impressed ever since its smartphone debut on the HTC One S, and we expected some good results from the Express, particularly amongst other dual-core midrangers.
BenchmarkPi sees the Express land right in the middle of the pack when it comes to single-threaded CPU performance. Nevertheless, it beats out some top competitors in the Galaxy S II and Nexus, putting it right next to the Galaxy S III in this test.
Benchmark Pi
Lower is better
HTC One X (Snapdragon S4)

279

HTC One S

306

HTC One X (Tegra 3)

338

Samsung Galaxy S III

344

Samsung Galaxy Express

346

Samsung Galaxy Note 10.1

351

Samsung Galaxy Nexus

408

Samsung Galaxy S II Plus

409

Samsung Galaxy S II

452

Sony Xperia S

536
Quadrant gave us some great results from the Express, where it handily beats out the likes of the Galaxy S II/Plus, giving us comparable results to the HTC One S, even though the dual-core Krait on the One S is clocked higher.
Quadrant
Higher is better
Samsung Galaxy S III

5365

HTC One X (Snapdragon S4)

5146

HTC One S

5047

Samsung Galaxy Express

4998

HTC One X (Tegra 3)

4842

Samsung Galaxy S II Plus

3542

Samsung Galaxy Note

3531

Sony Xperia S

3173

Samsung Galaxy S II

3053

Samsung Galaxy Nexus

2316
GLBenchmark runs offscreen at 1080p resolution - putting all our tested devices on equal footing. The Adreno 305 GPU inside the Express gives us a result of 12 fps, which is about par for the course when it comes to dual-core performance.
GLBenchmark 2.5 Egypt (1080p offscreen)
Higher is better
LG Optimus G

29

Apple iPhone 5

27

Nexus 4

26

Samsung Galaxy Note II

17

Samsung Galaxy S III

15

Samsung Galaxy S II

13

Samsung Galaxy Express

12

HTC One X+

12

Samsung Galaxy S II Plus

11

HTC One X

9
Finally, the SunSpider and Browsermark benchmarks gave us results that weren't the best, but still good for its class. The Express managed to beat out the One S in SunSpider, which can be attributed to the higher Android version, and Samsung's ability to optimize the browsing performance. Browsermark 2 gives us results that aren't as great, but still do well in their own right.
SunSpider
Lower is better
Samsung Galaxy S III

1447

Samsung Galaxy S II Plus

1460

Samsung Galaxy Express

1654

HTC One S

1708

New Apple iPad

1722

HTC One X (Tegra 3)

1757

HTC One X (Snapdragon S4)

1834

Samsung Galaxy S II

1849

Samsung Galaxy Nexus

1863

Samsung Galaxy Note 10.1

1891

Apple iPhone 4S

2217

Sony Xperia S

2587
BrowserMark 2
Higher is better
LG Optimus G

2555

Acer CloudMobile S500

1877

Nokia Lumia 820

1760

Samsung Omnia W

1632

Samsung Galaxy S III (JB)

1247

Samsung Galaxy Express

1154

Samsung Galaxy S II Plus

1079

Samsung Galaxy S III mini

714

Sony Xperia J

587