Introducing the HP dm1z
HP's been on board AMD's ultraportable bandwagon since the chipmaker first shipped the underwhelming Congo platform, and HP continued to produce reasonably compelling not-quite-netbooks with the Athlon/Turion II Neo-equipped Nile platform. But now that AMD has made a concerted effort to dethrone Intel's Atom with Brazos, HP has been able to produce a true netbook competitor. We have the shiny new dm1z equipped with the AMD E-350 in our hands: is this the netbook we've been waiting for?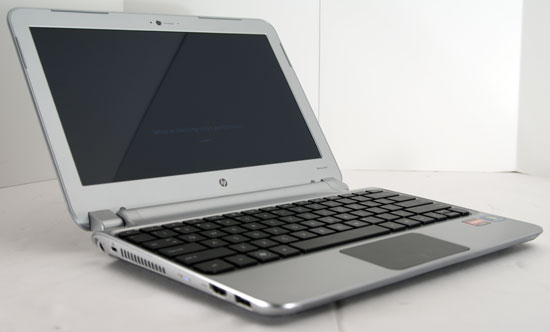 HP has refreshed their dm1 line with AMD's Fusion APUs, but what else does their shiny new netbook bring to the table?
HP dm1z Specifications

Processor

AMD E-350




(2x1.6GHz, 40nm, 1MB L2, 18W)

Chipset

AMD Hudson FCH

Memory

1x2GB DDR3-1333, 1x1GB DDR3-1333 (Max 2x4GB)

Graphics

AMD Radeon HD 6310 IGP




(80 Stream Processors, 500MHz core clock)

Display

11.6" LED Glossy 16:9 1366x768




(AU Optronics B116XW03 Panel)

Hard Drive(s)

320GB 7200 RPM




(Western Digital Scorpio Black)

Optical Drive

-

Networking

Realtek PCIe Gigabit Ethernet




Realtek RT5390 802.11b/g/n




Ralink Motorola BC8 Bluetooth 3.0+HS

Audio

IDT 92HD81B1X HD Audio




Stereo speakers




Headphone+mic jack

Battery

6-Cell, 10.8V, 55Wh battery

Front Side

Altec Lansing speakers

Left Side

AC adapter




Kensington lock




Exhaust vent




Indicator lights




HDMI




USB 2.0

Right Side

SD/MMC reader




Headphone+mic jack




2x USB 2.0




D-SUB




Ethernet jack

Back Side

-

Operating System

Windows 7 Home Premium 64-bit

Dimensions

11.42" x 8.43" x 0.8"-1.2" (WxDxH)

Weight

3.52 lbs

Extras

1.3MP webcam




Flash reader (MMC, SD/Mini SD, MS/Duo/Pro/Pro Duo)




Altec Lansing speakers

Warranty

1-year limited warranty

Pricing

Starting at $449


Priced as configured: $449 (at time of writing)
The most interesting thing about the HP dm1z, right off the bat, is that it's the first netbook we've reviewed to feature AMD's Fusion APU, and HP equips the dm1z standard with the most powerful one in the lineup. The AMD E-350 comes with dual 1.6GHz Bobcat cores, 1MB of L2 cache (no L3), along with a Radeon HD 6310 GPU integrated into the processor die. The HD 6310 is more or less an on-die Radeon HD 5450, with 80 DirectX 11-class stream processors in AMD's VLIW5 configuration and clocked at 500MHz.
The E-350 features a single 64-bit DDR3 memory channel capable of supporting up to two DIMMs for a total of 8GB of RAM. The whole shebang has a TDP rated at 18 watts, which may seem like a lot until you remember the IGP is built into the processor instead of the Northbridge, and instead of having a Northbridge+Southbridge combo as is traditional for AMD, the E-350 requires only the Hudson FCH, a tiny chip that includes just enough SATA, USB, and PCI Express connectivity to get by. Besides, TDP isn't the same thing as actual power requirements—18W looks to be close to the maximum the APU can draw.
Given the small form factor of the dm1z and its intended market, HP is actually fairly generous in its stock configuration. At the time of writing, HP offers a "free upgrade" from the base 2GB of DDR3 and 250GB 7200RPM hard drive to 3GB of DDR3 and a 320GB 7200RPM hard drive; this is the configuration you're most likely to see in retail. The Western Digital Scorpio Black is pretty fast for a mechanical drive, too, so it's nice to see HP step up and offer this 7200RPM drive as standard. Connectivity is handled by Realtek Gigabit and 802.11b/g/n wireless networking along with a Bluetooth 3.0-capable Ralink chipset. About the only complaint we really have on this front is the lack of a separate microphone jack, but that's relatively small potatoes in the grand scheme of things.
The Swankiest Netbook You Ever Did See
First we should make one thing clear: the HP dm1z is basically small enough and slow enough to be considered a netbook, with most of the good and bad connotations that term brings with it. With that in mind, the dm1z is a remarkably attractive piece of kit and as you'll see, in many ways it feels like the netbook finally arriving at about the form factor and performance level it always needed to be at.
The lid of the dm1z is a textured black plastic that is a healthy stride away from the glossy plastic hell that used to plague HP's older models; it's attractive and doesn't easily pick up fingerprints and smudges, and the HP logo is nice and subdued in the lower corner. There's a silver trim that extends around the lid and into the body.
When you pop open the dm1z, you'll see that trim matched with silver matte plastics on the screen bezel and tastefully framing the keyboard and touchpad. HP has made some really great strides as of late in improving the looks of their notebooks, and the dm1z continues that trend. The silver plastic is used for the interior surface along with the battery and rim of the system and is complemented by sparse usage of white LED indicator lights.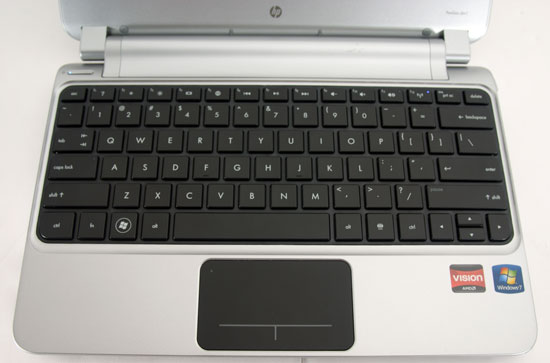 HP has been pushing a standardized chiclet-style keyboard across all of their lines at this point, and it suits the dm1z. The 11.6" form factor allows HP to squeeze a comfortable full-sized keyboard into the unit, too, with the document navigation keys helpfully and logically mapped to Fn+arrow key combinations. The keys aren't marked that way, but it's easy enough to figure out. There's no number lock either, but I've never found the 10-key wrangled onto the main keyboard to be particularly useful. The only complaints about the keyboard are minor ones: HP, like Dell, opts to default the function keys to controls and shortcuts (though this can be toggled in the UEFI), and the left and right arrow keys are basically double-sized compared to the up and down arrows. On the whole, though, this is a solid netbook keyboard that most people should be very comfortable with.
The touchpad is more of a mixed bag, but kudos to HP for actually using a separate piece of plastic for it instead of just building the sensor into the inside panel. Of course, there's a reason for that: HP is using the same clickpad that's dogged their mainstream notebooks over the past year. To be fair the HP implementation is among the better ones used for Windows-based systems, it's multitouch capable, and the tracking surface is comfortable, but we would still rather see dedicated buttons on future refreshes. If you're using an external mouse or keep brushing the touchpad (not a problem I had in testing it), you can actually double-tap the top left corner of the touchpad with your finger to disable it; a pinpoint orange LED will glow when the touchpad is disabled.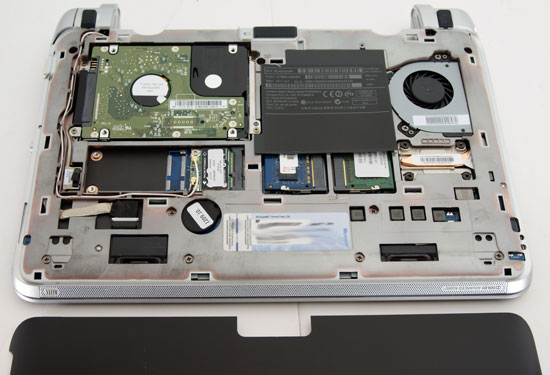 One of my favorite features of the dm1z is actually on the bottom. HP has gone a long way towards simplifying user upgrades by simply putting one large, screwless panel on the bottom of the unit. The panel simply snaps on and off and feels both sturdy and user-friendly while also making the dm1z as a whole more attractive by hiding serial numbers and the Windows key. As you can see, everything you'd want to upgrade is easily accessible.
Taken as a whole I'll admit to being fairly smitten by the dm1z's design. It's remarkably well streamlined and clearly designed to improve the user experience while avoiding looking too chintzy or cheap. This is definitely one of the best-looking netbooks I've ever seen and it feels very solid.
Fusion-Powered: Application and Futuremark Performance
This was my first experience with AMD's E-350 APU, a chip which has been the subject of some contention around here. Jarred and I are basically in agreement where performance is concerned and the general positive impact the chip can have on the mobile market: it's where netbooks probably needed to be all along, and should hopefully supplant Intel's lackluster Atom platform. Where we differ is our enthusiasm for it: Jarred feels Brazos was long overdue and isn't the quantum leap we were hoping for and expecting, which is a perfectly fair assessment. We needed Brazos a while ago, and AMD is late to this party.
That said, I'm happy AMD finally did show up. You'll see the E-350 isn't a massive jump forward from Atom, but it's enough of one to make the netbooking experience finally enjoyable instead of being a sluggish chore. Subjectively speaking, in regular use I found the dm1z to be nearly as responsive as my Lenovo ThinkPad X100e which is equipped with AMD's first generation Congo platform (though upgraded to an Intel X25-V SSD instead of the still-respectable Western Digital Scorpio Black mechanical drive.) So how does the E-350 actually fare when compared to mobile kit?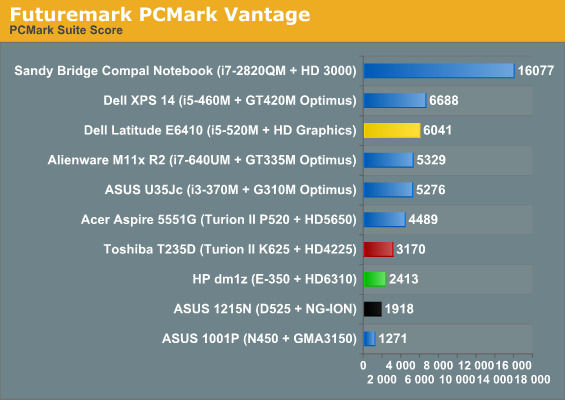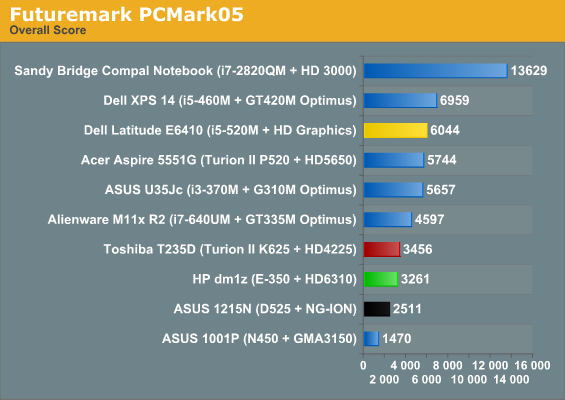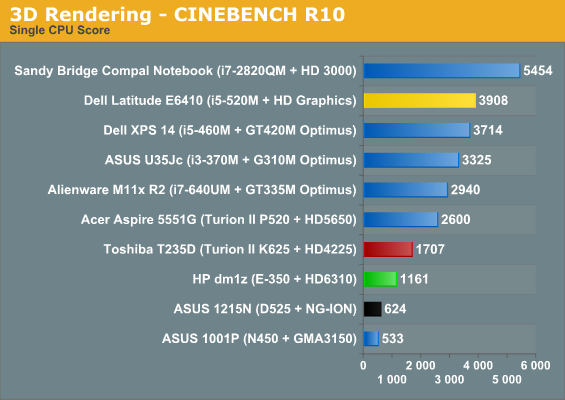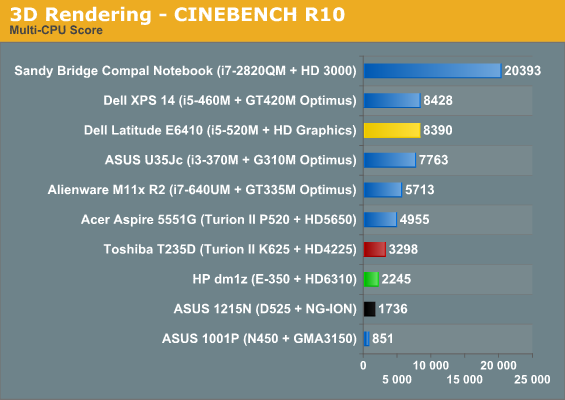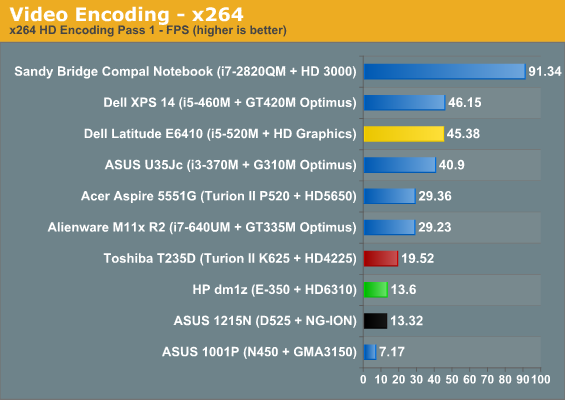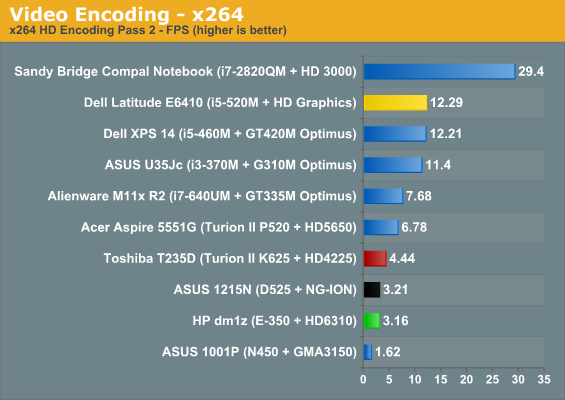 The first thing you'll notice is that while the E-350 generally cleans Atom's clock (the dual-core nettop D525 only comes out with a slight lead in the 2nd pass x264 encode), it's also generally about two-thirds as fast as the Nile platform's 1.5GHz Turion II K625. That's not too bad, but this is part of what Jarred's talking about, especially when you think about the Intel Core 2-based CULV kit that periodically kicks around the market (becoming stunningly rarefied). CULV hardware has also floated around the price point the dm1z is hitting shelves at, too, but it was fairly inconsistent. On the flipside, it does beat dual-core Atom equipped with NVIDIA's NG-ION, and this is a trend that's going to continue.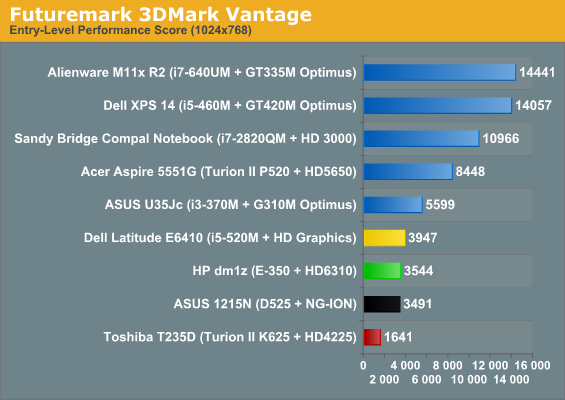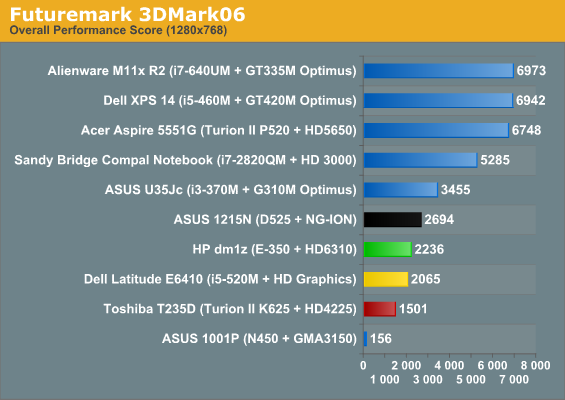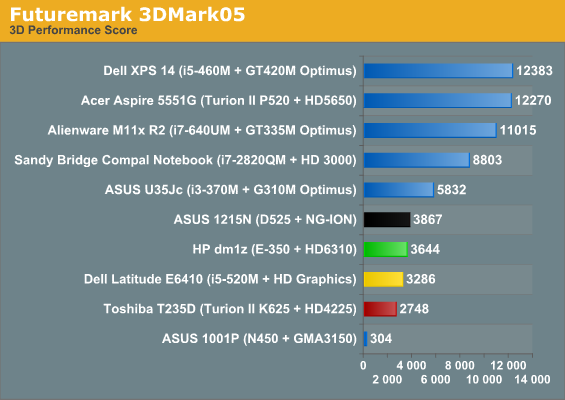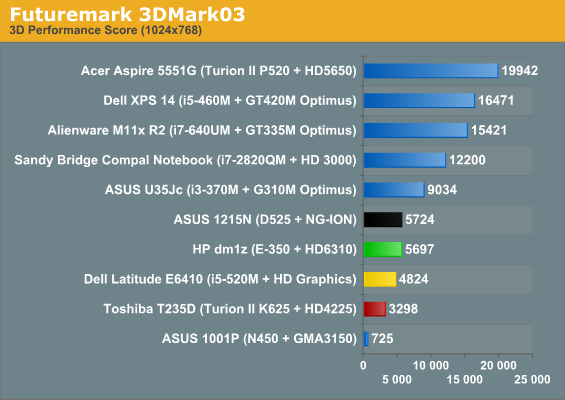 In 3DMark the E-350's integrated Radeon HD 6310 generally hangs out in the neighborhood of NG-ION, but it soundly beats Intel's last generation IGP (with better drivers and more stable performance to boot), and embarasses the Nile platform's Radeon HD 4225. That's not too surprising: in terms of raw GPU power the HD 6310 features twice the number of stream processors and a higher core clock.
If anything, the HD 6310 shows just how long in the tooth AMD's current IGP has really gotten: when it debuted as the 780G, it was a revelation, offering the best IGP performance bar none. The problem is that AMD just let it sit, offering new model numbers with no real performance increase outside of adding DirectX 10.1 support and bumping clocks slightly in some cases while serving us a warmed over Radeon HD 4550 in the form of the Radeon HD 5450 when they really should've just been integrating that hardware into their chipsets.
Ah well. With Brazos here now and Llano on the horizon, the era of AMD integrated graphics parts wearing out their welcomes should come to a close.
Almost There For Mobile Gaming
While the E-350 at least brings netbooks into the era of genuine usability and the Radeon HD 6310 is definitely a step up from the Nile platform's IGP, you'll see that unfortunately CPU performance isn't quite there yet.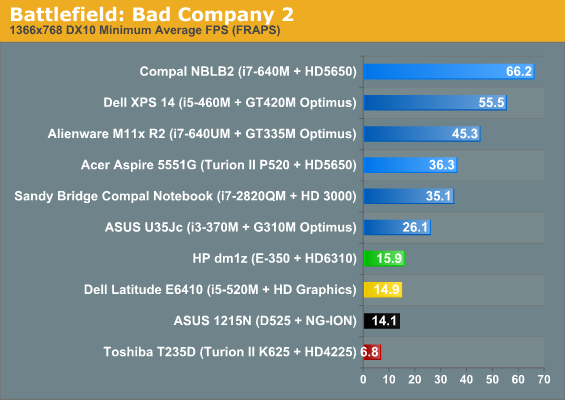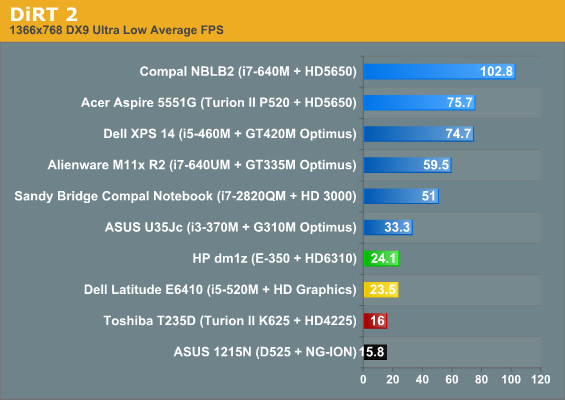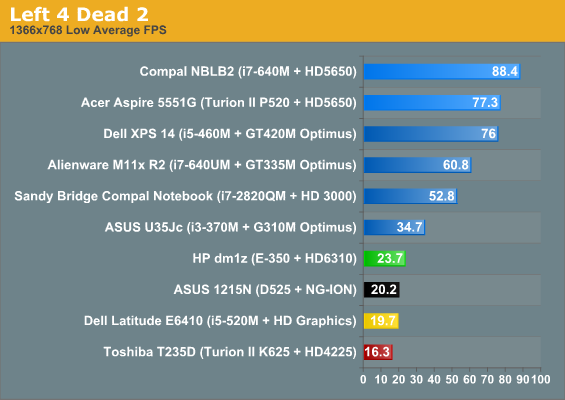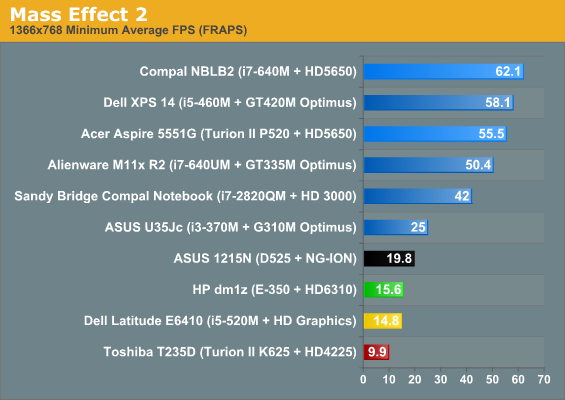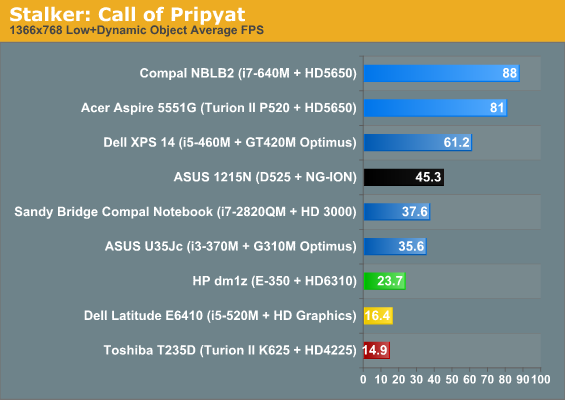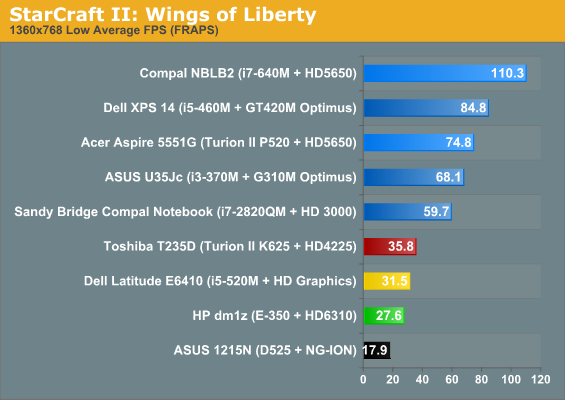 In all cases the HD 6310 acquits itself fairly well compared to the other integrated parts, but CPU performance takes its pound of flesh. Bumping settings down can improve the situation (usually these lower-powered parts will hit bandwidth limitations at 720p and can come into their own at around 800x600) and at that point you're liable to see a substantial improvement over the Nile platform's Mobility Radeon HD 4225, but at the end of the day we're still pretty heavily processor limited.
Jarred's working on some additional gaming tests for his E-350 review, but the general rule of thumb is that you'll want to look at slightly older games (or very undemanding current games). As an example, the original Half-Life 2 runs reasonably well at 1366x768 and medium quality settings; move to the later episodes, however, and performance starts to drop into the 20s and teens—and don't even try bumping the shadow quality above "Low". Maybe now would be a good time to rediscover some of the gaming gems from before 2007?
The big news with Brazos, and by extension the HP dm1z, is the substantially improved battery life over Nile. While performance is nowhere near a strict win over that platform (Atom on the other hand...), power efficiency absolutely is. Take a look at this.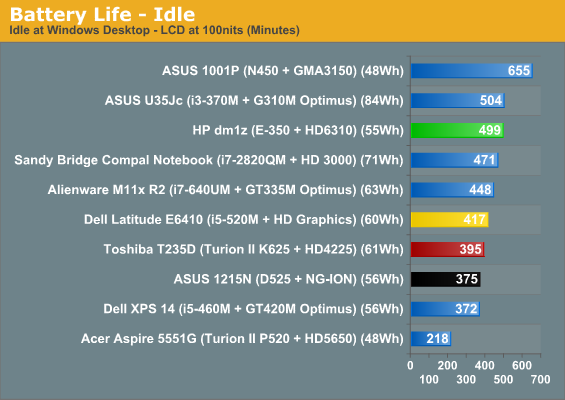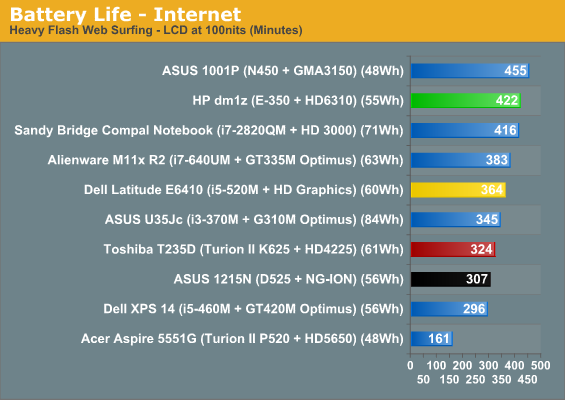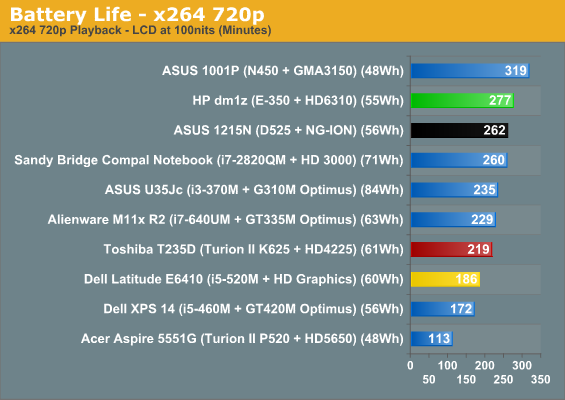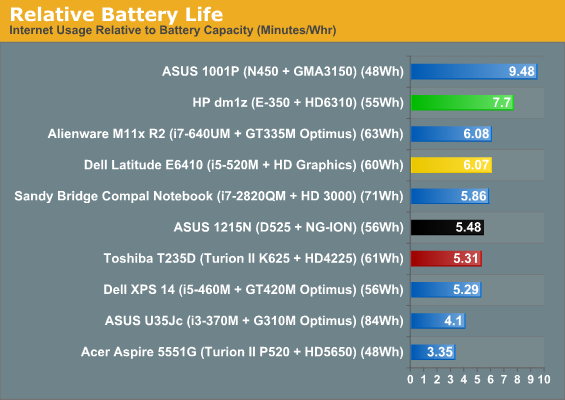 While portable gamers are probably still going to want to hang with Alienware's M11x, Brazos basically tells Intel's dual-core Atom to pound sand. The dm1z doesn't hit the battery life HP advertises (9.5 hours is pretty optimistic, probably only possible with wireless and Bluetooth disabled and the screen at the lowest brightness), but it still pulls more than seven hours of useful running time with a reasonable screen brightness and runs roughshod over Nile.
Unfortunately, where things get a little dicey (at least with the HP dm1z) is noise. First, the good news: heat output.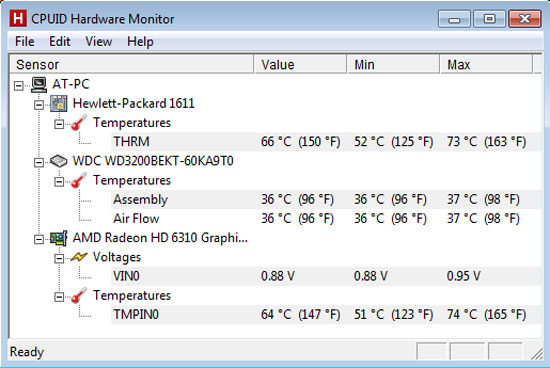 The internal components run at fairly reasonable temperatures, if a little on the high side, but fortunately those temperatures don't translate into an uncomfortable user experience. Quite the opposite in fact: the dm1z can happily be used on your lap without scalding you.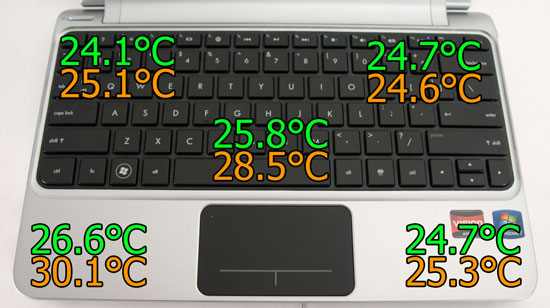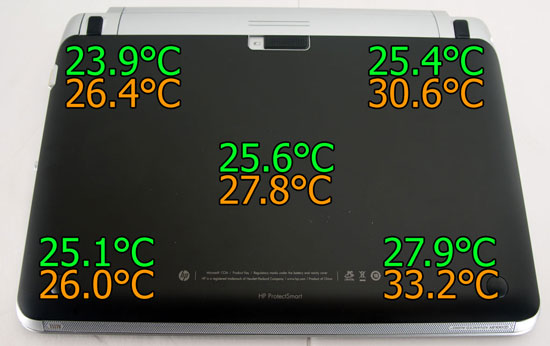 At idle the HP dm1z remains nice and frosty, and under sustained load the outside temperatures don't increase enough to make using the dm1z uncomfortable. But remember what I said about noise?
Part of the reason the dm1z is able to stay so comfortable is because the fan is almost constantly running. It's fairly low and not too obtrusive, but I have an AMD-based 15.6" Sony notebook on hand for review that runs quieter than the dm1z does at both idle and load. That may not be entirely fair because the 15.6" machine has more breathing room in the larger chassis, but it's nonetheless an issue. The fan in the dm1z doesn't spin up that much under heavy load, which would be more appreciated if HP was able to tune it to run just a little quieter at idle. This isn't make-or-break noise, but it's worth bringing up.
Another Mediocre Netbook Screen
Subjectively at least, the screen on the HP dm1z is usable if uninspiring. 1366x768 should really be the minimum resolution at this point to get any kind of work done, and it at least looks reasonable on an 11.6" screen (as opposed to feeling borderline inexcusable on anything from about 14" on up). That said, HP had to cut a corner somewhere on the dm1z's otherwise excellent design, so we present to you: The Cut Corner.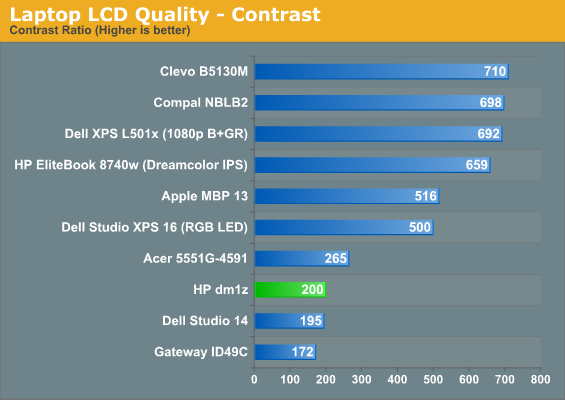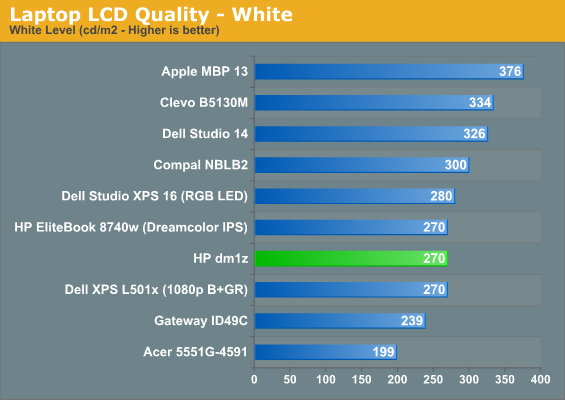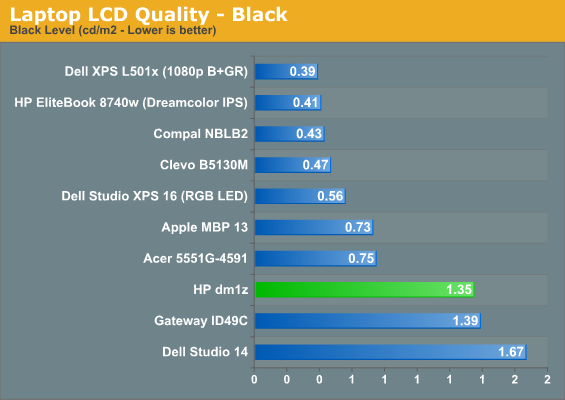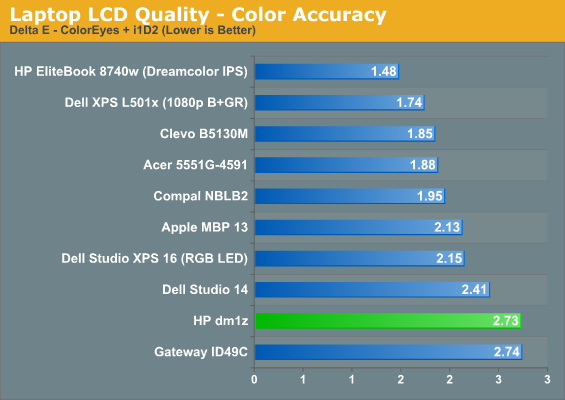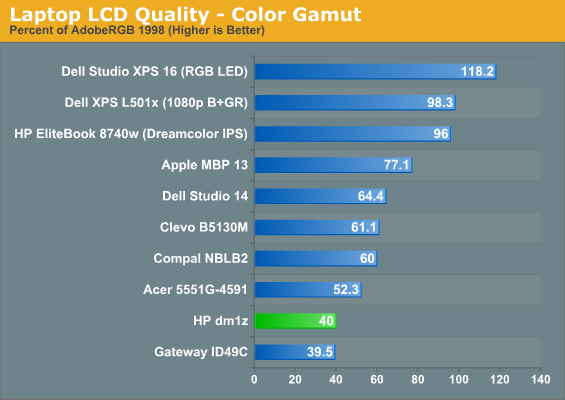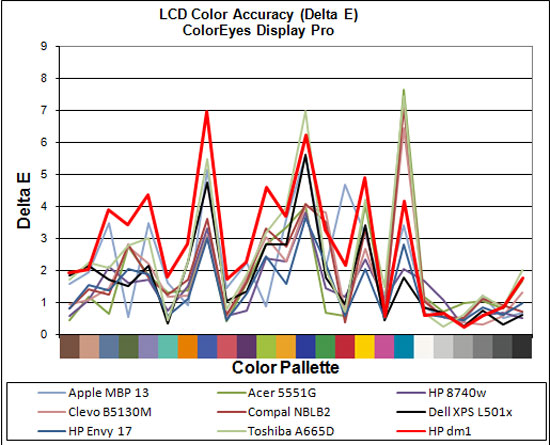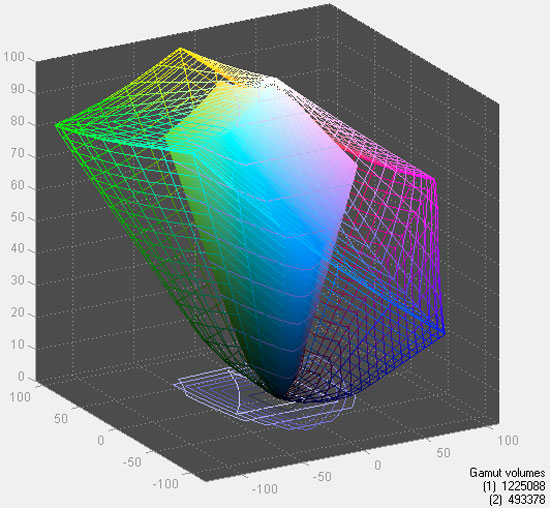 Well, that's unfortunate. The screen is reasonably bright, but everything else is pretty poor. Our reigning champion of "worst screen we've reviewed recently" is probably still the Gateway ID49C, but the dm1z gives it a run for its money. If there's one silver lining here, it's that viewing angles for the dm1z are at least decent: there isn't a massive fight to try and find the sweet spot as there can be on larger screens.
Gallery: HP dm1z Viewing Angles
Viewing angle photos can be problematic, but hopefully this gives you a reasonable idea of what you can expect from the dm1z's screen. In general use it shouldn't be a problem and the hinges HP employs allow a very healthy amount of tilt (the screen can actually go back nearly 180 degrees), so you're really just left with mediocre color and contrast.
The Netbook We've Been Waiting For
AMD may have taken its sweet time getting involved in the netbook race, but at least they're here now, and Brazos gives the market the leg up it's needed since the day ASUS introduced the first Eee PCs. The Bobcat core may not have been the homerun we were hoping for, but it's a fantastic start. We finally have netbooks that can pass my "Grandma Test": can it play 1080p video on YouTube and is it fast enough that your grandmother won't complain?
The only thing that hurts about using the dm1z, really, is the amount of bloatware it ships with from HP. That stuff can be uninstalled, though, and if you put a clean installation of Windows 7 on the dm1z you're going to find a surprisingly capable little computer that really screams past the Atom-based netbooks of old. It only felt sluggish when I was using it next to another computer with a mainstream or better processor; otherwise the dm1z was perfectly serviceable and a far cry from the waitfest that an Atom-based netbook can quickly become.
HP really nails the design and aesthetics of the dm1z, too. This is a sharp-looking netbook with premium looks, and in a nice change of pace HP ships it with a 7200RPM mechanical hard disk and 2GB of DDR3 standard. That may put it well over the price of competing Atom machines, but not far enough to not be a solid deal at $449—and let's not overlook the full Windows 7 Home Premium install (instead of Starter). The only major dents in the dm1z's armor are the poor screen and constantly running fan. At this price point these things are forgiveable, but in the case of the screen it doesn't mean we can't wish for better and continue haranguing manufacturers to improve what has quickly become the biggest problem with modern notebooks at any size.
The only fly in the ointment is that while the E-350 is a step up, it's a long overdue one and it's not quite the huge one we needed. AMD has already announced that they'll be moving forward with CPUs that have four Bobcat cores, but we don't need more cores in the E-350; we need faster ones. I think it's fairly telling that manufacturers have largely ignored the other three Bobcat-based chips save maybe the C-50. Two cores are the sweet spot for this usage pattern, but really we need those cores to be running at faster clocks. (And sorry—there's no overclocking support for the dm1z at present.) For a first foray into this kind of territory, Brazos is a fantastic design and at least the E-350 brings some much needed life to the netbook market, but we wouldn't be doing our jobs if we didn't continue to prod the industry and ask for more.

At the end, my experience with the HP dm1z was positive enough to recommend one to my mother to replace her aging HP tablet PC. It's responsive, runs cool, lasts a long time on the battery, and has a smart design. If I can recommend one to my mother, I can recommend one to you, and for that I think the dm1z (at least at $449) is worthy of a Silver Editors' Choice. At $399 and with a better screen, we'd be looking at Gold.
On a final note, this certainly isn't the last we'll hear about Brazos netbooks/laptops. We have several other reviews in the pipeline, and we'll be looking into the gaming potential and additional performance metrics in those reviews, along with a full platform comparison between CULV, Nile, Brazos, and Atom. Jarred already has a thread in the forums for requests, so chime in there if you have any specific areas you'd like to see addressed in the future articles.