Introduction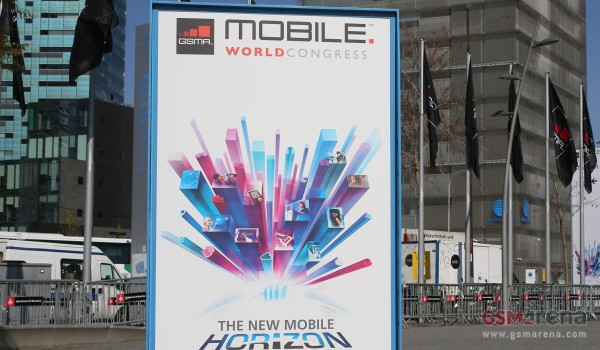 With several of the bigger players in the mobile world notably absent from this years' MWC festivities, several of the lesser-known manufacturers can take advantage of the spotlight.
This year, we see several offerings from ZTE on the table, including the first phone running Mozilla's new Firefox OS (
the ZTE Open
), a new 5.7-inch
Grand Memo
phablet, and the 5-inch 1080p
Grand S
.




ZTE booth
Alcatel has a stake in matters too with the
full-on flagship
One Touch Idol X
. It has a 1080p touchscreen at the front, quad-core processor, 13 MP snapper and a colorful design. Alcatel also endeavored into FireFox OS territory with the
One Touch Fire
. The
One Touch Idol Ultra
has a 4.65" 720p AMOLED screen, the
One Touch Scribe HD
is a 5" HD phone and finally there's the midrange
One Touch Star
.


Alcatel One Touch booth
We also snapped a couple of pictures of the Jelly Bean-running
Acer Liquid E1
.
We were able to get some hands-on time with the
Slate 7
, which HP has released as a direct rival to the Nexus 7.
If you like to see one of best 1080p screens on site check out our hands-on with the NTT DoComo-bound Fujitsu Arrows X F-02E.
There's a couple of unique offerings on hand, such as the Android-powered I'm Watch, the dual-screen LCD-slash-E-Ink combo YotaPhone and the ultra-rugged smartphone from Caterpillar.
The Xiaomi MI-2 landed in our grasp and we took some photos to compliment our impressions of it.
As for AMOLEDs we've had a run in with the NEC Medias Tab, which sports a 7" AMOLED screen, 249 g weight and a dual-core Krait - all on Android ICS.
ZTE Grand Memo hands-on
The
ZTE Grand Memo
is the company's latest phablet, with a massive 5.7" screen, a 13MP camera and 1MP front-facer, 16 GB of internal storage, 1GB of RAM, and a 3200 mAh battery to power it all.




The Grand Memo and its massive screen


The profile is pleasantly thin
The back of the device is made of textured plastic which looks like faux aluminum.

The back panel has a pleasant texture, but smudges easily
The display is good but not exceptionally so, and the OS features a nifty trick from ZTE called Mi-POP, made for people with smaller hands. It allows you to use capacitive keys from anywhere on the screen via a small popup. You can see it here in our brief video tour of the Android OS:
ZTE Grand S
The
ZTE Grand S
is the company's own foray into the 5-inch 1080p club, and gives you a quad-core 1.7 GHz processor along with 13MP camera and 2MP front-facer, both capable of 1080p recording. Inside, there's 16GB of storage and 2GB of RAM.



The Android performance on the Grand S steals the show
We liked both the display and the performance of the Grand S more than its larger counterpart, and although the Memo didn't feature much slowdown either, the Grand S impressed us with how slick its interface was.



The device has a thin profile and feels comfortable in hand
The Grand S comes in a boatload of color varieties as well, both matte and glossy.
ZTE Open
The
ZTE Open
is the first device to run Mozilla's brand new Firefox mobile OS. It has a 3.5" capacitive touchscreen of 320 x 480 pixels, alongside a 3MP camera, 512 MB ROM and 256 MB of RAM. The Open is powered by a 1 GHz processor which is a bit on the slow side, and you can sometimes feel it in the laggy OS performance.




The ZTE Open feels cheap to the touch
The Open is designed with a low price point in mind, and the phone really feels and looks the part. It's cheap, and the performance is not impressive.


It also comes in several color combinations
Take a look at this brief hands-on video for a quick glimpse of the OS in action.
Alcatel One Touch Idol X hands-on
Alcatel's big ticket into the high-end is called the
One Touch Idol X
. It ticks all the right boxes in these performance-driven times - a sharp 5" 1080p screen with around 441 pixels per inch, quad-core processor, 13 MP snapper on the back, expandable storage, etc.



The Alcatel One Touch Idol X
While we were getting to know the Idol X, one thing stuck out - the gorgeous display. The screen is better than the one on the Xperia Z, and is certainly on par with what HTC offers with their wonderful Super LCD 3.
Things look really sharp on it. Contrast is top notch and so are viewing angles. The black crystal coating on top of the screen makes it look really black when the phone is locked or off (much like the screen on the iPhone 5).



The Alcatel One Touch Idol X
The phone has a glossy back option, however it isn't all that great and is a true fingerprint magnet. It doesn't feel great in the hand either. The matte finish, however, is a different story altogether.
Despite the size, it's a comfortable device to hold and operate single-handedly.




The Alcatel One Touch Idol X
Here's a hands-on video we shot of the Idol X.
Alcatel One Touch Idol Ultra hands-on
The Alcatel
One Touch Ultra
is a nothc below the Idol X. It was announced back in January but this is the first time we see it in person.
It sports a 4.65" AMOLED display of 720p resolution, an 8 MP snapper and Android Jelly Bean. It's also the thinnest Alcatel (and one of the thinnest smartphones) at just 6.5 mm.
It feels very light at 115g and you'd expect more heft just by looking at it. The story with the glossy and matte panels is the same as on its more prominent sibling - it's just feels better in matte. It sticks better to your palm and fingerprints aren't such an issue.






The Alcatel One Touch Idol Ultra
The 4.65" AMOLED screen does well when it comes to contrast and depth of blacks. Unlike some AMOLED units (the Galaxy Nexus pops to mind) it's not dim at all. At maximum brightness it's more than capable of handling a sunny day outside.



The Alcatel One Touch Idol Ultra
Alcatel One Touch Scribe HD hands-on
The
One Touch Scribe HD
is another device announced back in January. It has a 5" IPS LCD of 720p resolution. We prefer the matte one, again, as the glossy variant got covered in smudges in an instant.
One thing to note here - the edges of the devices are slanting outwards, making it somewhat uncomfortable to hold.






The Alcatel One Touch Scribe HD
The One Touch Scribe HD is rocking Android 4.1 currently, but Alcatel assured us that it will ship with 4.2.
Alcatel One Touch Fire hands-on
Alcatel's Firefox smartphone is up next. The
One Touch Fire
is a simple little gadget. The screen has a HVGA (320 x 480) resolution stretched across a 3.5" diagonal. There's a lowly 1 GHz processor on board and the camera is a 3MP unit.
The device comes in orange (glossy, again) and feels quite compact. It's not thin, however, but you'd expect this in a budget offering.




The Alcatel One Touch Fire
Alcatel One Touch Star hands-on
Finally, we come to the mid-ranger in the lineup. The
One Touch Star
has a 4" WVGA display on tap, dual-core 1 GHz processor and a 5 MP camera.
We only saw the Star in white glossy plastic but have to say were impressed with the screen. It looks superior to some screens we've seen in the same segment.




The Alcatel One Touch Star
All the devices we handled (well, save for one obvious exception) are running Android 4.1 Jelly Bean, which we find to be a good start. And we should say, Alcatel are doing the big manufacturers no favors - here's looking at you LG, Sony. Of course, it will all boil down to pricing and availability.
Alcatel One Touch Snap and Snap LTE live photos
The Alcatel One Touch Snap and Snap LTE arrived a little late in Barcelona and were lit by stage lighting just today. Unfortunately we weren't able to spend some quality time with them as they were only exhibited behind a glass. Still we took some live photos to show you what the duo looks like in real life.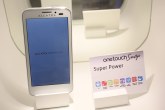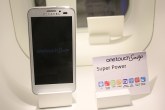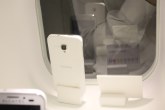 The Alcatel One Touch Snap live photos
It's a solid no-nonsense design and an all-plastic body. It's not too bad, but you'll hardly be tempted to write home about it either.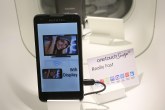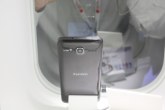 The Alcatel One Touch Snap LTE live photos
Acer Liquid E1 hands-on
We had a run in with the
Acer Liquid E1
at Acer's MWC 2013 booth and we thought we'd share our impressions with our readers.
Announced last month, the Acer Liquid E1 has a dual-core 1 GHz processor, a 4.5" qHD (540 x 960) IPS LCD screen and is running on Android 4.1.1 Jelly bean.
The phone reflects the current state of midrange in its exterior. It's fully wrapped in plastic, the finish reminiscent of the
Acer CloudMobile S500
. The E1 has a nice and distinct rubbery feel to it and we imagine it would be very hard for you to let it slip out of your fingers accidentally.



Acer Liquid E1
At the back there's a 5 MP camera with a single LED flash and a secondary mic on either side. The back panel is textured for a bit of a rugged look.
The eye-catching stuff here are two speakers at the top and bottom. We didn't have a chance to properly test them, but they are a nice thing to have.



Acer Liquid E1
We also snapped a couple of pictures of the Acer Liquid E1 in white. Things are in exactly the same spot as on the black one but we find the white version more fetching than the black - it's a personal thing though.




Acer Liquid E1 in white
HP Slate 7
The
HP Slate 7
is an upcoming tablet from HP aimed at rivalling the Nexus 7 from Google. It's not as robust as Google's offering, but it does occupy a lower price point. Inside the Slate 7 there's a dual-core 1.6 GHz processor, front and rear-facing 3MP cameras, 8GB of internal memory and 1 GB of RAM.



The display is a fingerprint magnet
The 7 inch display is of 600 x 1024 pixels resolution, and is about the same mediocre quality as that of the Nexus 7. Colors are washed out, there's not much contrast, and the screen is very prone to fingerprints; we suspect there's no anti-smudge coating to be found anywhere.
The buttons on the sides are solidly built and don't feel as if they'll break anytime soon, but the back seems to be made of a material that, although it looks nice, will undoubtedly scratch easily from use.



The construction of the tablet is decent
You can check out a brief hands-on video here:
Benchmark performance is also about what you'd expect from a device of this caliber.
Benchmark Pi
Lower is better
Asus Padfone Infinity

144

HTC One

151

Sony Xperia Z

264

HTC Butterfly

266

Oppo Find 5

267

HTC One X+

280

LG Optimus G

285

Samsung Galaxy Note II

305

LG Optimus 4X HD

350

Samsung Galaxy S III

359

Meizu MX 4-core

362

HP Slate 7

422

Nexus 4

431
SunSpider
Lower is better
Asus Padfone Infinity

875

Samsung Ativ S

891

Apple iPhone 5

915

Nokia Lumia 920

910

Samsung Galaxy Note II

972

HTC One X+

1001

Motorola RAZR i XT890

1059

HTC One

1124

Samsung Galaxy S III

1192

Meizu MX 4-core

1312

LG Optimus G

1353

HTC Butterfly

1433

HP Slate 7

1698

Sony Xperia Z

1906

Nexus 4

1971

Oppo Find 5

2045
The Slate 7 comes with Android 4.1.1 on board, and has Beats audio integration thrown into a very competitive $169 price tag. Look for the HP Slate 7 this April.
I'm Watch hands-on
Smartwatches are trying to break through in the industry. As smartphones are becoming more and more indispensable in our socially-driven, always-on and always connected lives various manufacturers are seeing the opportunity to ride the same wave and are starting to create products that can integrate with smartphones.
Such a device is the I'm Watch from Italian-based maker
I'm
. The smartwatch runs on the I'm Droid 2 OS, which has a number of different apps and an app store where you can get more.
The I'm Watch connects to your smartphone via Bluetooth and can let you make calls, display texts, emails, set alarms, you name it. It can integrate with iOS and Android devices and open up apps like Facebook, Twitter, Instagram, etc.
The display is a 220 ppi 1.54" TFT unit with a 240 x 240 resolution. There's a built-in 450 mAh Li-Po battery, which is chargeable via a USB cable and a PC or through a power adapter. It has a built-in microphone and speaker so you
can
go all James Bond and talk directly through the I'm Watch.




I'm Watch hands-on
The phone has an aluminum casing and a number of colorful straps. We saw all the different color options - white, red, yellow, blue, black, pink, etc. On the right side there's a single Back button. On the left there's a tiny speaker grille.
Performance wasn't all that inspiring. It's noticeable on the video that I'm Watch tends to lag a bit on some tasks. It's not lightning fast and that could be a problem for some people.


I'm Watch on the wrist
It fits nicely on the hand. However it's a tad heavy, Lumia 920-heavy actually, at 180 grams. Still, some people like a little heft to their watch so it may not be a deal-breaker for most.
Here's our video of the I'm Watch smartwatch.
To get one, you'll have to part with €250, which is a bit steep.
CAT B15
Caterpiller, probably one of the last names you'd expect to hear at a mobile trade show, has announced their ultra-rugged B15 smartphone, which has an IP67 rating and can survive drops of up to 1.8 meters, underwater immersion for up to half an hour, and even operate in extreme temperatures (down to -20 C).




While it can take some punishment, the screen is not that great display-wise
As far as the software side of things goes, the B15 does have Jelly Bean, but the dual-core 1GHz processor, 512MB of RAM, and 5MP camera capable of 720p recording make this device sound like it should've been released a year ago.



The construction is solid but the performance is just average
The display has low contrast and poor visibility when not looked at head on, and while it certainly looks like it can take some punishment, we'd be hard pressed to recommend this to anyone but construction workers or the like. If you simply tend to drop phones, there's better packages out there.
Ubuntu for smartphones and tablets overview and hands-on
At the start of 2013, Canonical, the people behind Ubuntu for PCs announced they are extending their efforts to develop a smartphone OS. Later, they also revealed that they are ready to show the world Ubuntu for tablets, as well.
They have already managed to make Ubuntu available for Nexus devices at the moment (Galaxy Nexus, Nexus 4 and Nexus 10) in the form of a flashable ROM, so the OS can show its multitasking prowess and user-friendly interface here at the Mobile World Congress.
At the Ubuntu booth we bumped into the friendly design team behind Ubuntu for smartphones and tablets, and they were kind enough to tell us more about the user experience and how Ubuntu is different (and better) from the big dogs in the smartphone game.
An OS that wants to be touched
Ubuntu for smartphones is an entirely touch-based operating system - physical buttons are not involved here at all (save for the lock and volume rocker buttons). This means that it makes use of the entire Nexus 4 screen, while Android reserves a bar for virtual back, menu and task switcher.
The OS utilizes the four edges very well, making up for the lack of virtual buttons. Swiping from the left edge makes a list of your favorite apps appear. Ubuntu reckons that even you use hundreds of apps, you wouldn't put them all on that bar, since it's a place only for your favorite ones.
The list can be accessed even when the device is locked, and there's an "view all apps" button on the bottom of it. A full swipe from the left edge across the whole screen takes you to the full list of apps on the phone.




Ubuntu for smartphones running on the LG Nexus 4
A swipe from the top unveils the settings menu. However, you can add sideways swipes to go straight into the different settings menus: Wi-Fi, volume, Bluetooth, etc. You can do that without interrupting the task carrier out in your currently active windows.
Swiping from the bottom of the screen unveils the app-specific options and additional actions. The right edge of the display is used to access the apps that have recently been opened. Think of it as an alternative to the Windows Alt+Tab shortcut, if you will.
You can see how Ubuntu runs on the LG Nexus 4 in the user interface overview we've shot below with Ubuntu's head of design Ivo Weevers.
As you probably noticed, everything about the Ubuntu platform is very fluid. According to the dev team the reason is Ubuntu doesn't rely on the Java runtime engine. Instead, the Linux distribution communicates directly with the drivers on the smartphone making everything run without a single hiccup.
As for the tablet variety of Ubuntu, it uses all the same principles as its smartphone version. There are some differences, though.




Ubuntu for tablets running on the Samsung Nexus 10
Since tablets are primarily used at home by more than one person, there is multi-user support. Each user has a password and a customized experience once logged in.
Here's a dedicated video showcasing the Ubuntu experience on a tablet.
Currently, Canonical has launched images you can flash on the Galaxy Nexus, Nexus 10 and Nexus 4. It's a bit fiddly, but there's an official step-by-step guide on how to make the Ubuntu OS run on the aforementioned devices.
Just like any other mobile OS out there, the app ecosystem is a vital aspect of its survival in this super competitive market. As such, Ubuntu prides itself for relying on traditional programming languages, that many developers are fond of. Additionally, it's basically Linux underneath, so many of the now existing apps will, at least on paper, only need an UI overhaul to work on Ubuntu smartphones and tablets.
As of the time of writing, Ubuntu is still in alpha. Canonical promises devices running the OS to hit at the end of the year. Our honest opinion? Ubuntu for smartphones and tablets is going to be worth the wait. Moreover, if the team plays its card right it might actually make an impact.
Fujitsu Arrows X F-02E hands-on
Here we have the Fujitsu Arrows X F-02E. It's already available for Japan's NTT DoComo LTE network and will soon show up in France on Orange.
As for the Arrows X F-02E itself - it's powered by a Tegra 3 quad-core processor with each core running at a 1.7 GHz maximum. There's an ample 2 GB of RAM on board, and the battery capacity is at 2420 mAh.



Fujitsu Arrows X F-02E
The more interesting part of the spec sheet is the gorgeous 5" 1920 x 1080 resolution IPS display on the front of the Arrows X F-02E. It outputs great colors and really stands out among other 1080p flagships as one of the best. Our only gripe is that the screen loses some contrast while viewed at an angle, but it isn't a major flaw by any means.
Design-wise the Arrows X F-02E features a bold, angular design. The front is button-less and the back, home and menu buttons are part of the display itself.
The device is pleasant to hold and has a nice heft to it.



Fujitsu Arrows X F-02E
There's a whopping 16.3 MP camera on the back with a single LED flash to one side. Curiously, it also features a fingerprint scanner just under the camera lens, but no word if all units will ship with it on board.
YotaPhone hands-on
The YotaPhone is an interesting concept. On one side it has a 4.3" 1280 x 720 LCD capable of showing you the full array of colors as you'd expect. On the other side however the YotaPhone has another 4.3-incher of the E-Ink variety on tap, which is ideal for reading books and can also display notifications without consuming much energy.
Despite having two screens the YotaPhone manages a thickness under 10 mm. The YotaPhone has Android 4.1 Jelly Bean preinstalled and under the hood things are kept in check by a dual-core S4 processor with two 1.5 GHz Krait cores and 2 gigs of RAM.
The device
made the rounds
back in December of last year and this is the first time we're seeing it in the flesh.


YotaPhone
The YotaPhone feels lightweight in the hands and amidst all the 5" 1080p powerhouses actually feels very compact.
The SIM card tray doubles as a power button, which is an interesting idea. And things don't stop there - on the bottom right of the phone (when facing the LCD, that is) there's a magnetic charge port (like on the Microsoft Surface RT). There's also a microUSB port.


YotaPhone
On the back side where the E-Ink display is you also find a 12 MP camera with single LED flash.
The LCD front of the device is covered in glass while the back has a matte finish on top of the E-Ink screen. The outer edges are made out of are rubbery plastic.
Keep in mind that the YotaPhone isn't coming out until late this year but so far only North America has been confirmed. Also some specs may change closer to launch.
Xiaomi MI-2 hands-on
The
Xiaomi MI-2
has a lot of appeal for the $313 (€259) price tag it boasts. It's got a 4.3" 1280 x 720 display with a pixel density of around 342ppi. It has a quad-core S4 Pro processor on tap with four 1.5 GHz Krait cores, 2 GB of RAM, an 8 MP snapper and runs on a MIUI-skinned Android Jelly Bean.
We got hold of the device while roaming the Mobile World Congress 2013 and snapped the usual array of photos.
Right off the bat, you'll notice the MIUI launcher on top of Android. It's very fresh and comes with a variety of colorful skins, each with its own UI feel and set of icons. They might not meet everyone's taste but as far as custom ROMs go, it's hard to beat it on sheer colorfulness and looks.




Xiaomi MI-2
The screen on the Xiaomi MI-2 is quite impressive. It's got superb viewing angles. Color reproduction is top notch and despite striving to be true to life, most colors pop out impressively, much like on the Optimus G Pro.
It's one of the best we've seen, although far from the color representation of the iPhone 5 or HTC's One X, DROID DNA and HTC Butterfly.




Xiaomi MI-2
The back panel features the 8 MP camera lens along with a single LED flash and the loudspeaker grille. Made out of glossy plastic the back panel is prone to fingerprints and smudges but generally feels nice in the hand, despite this shortcoming.


Xiaomi MI-2
As far as UI navigation goes, the Xiaomi MI-2 is fast and fluid. The S4 Pro chip is more than adequate in handling heavy loads. It's a shame that Xiaomi cannot offer this device on a broader global scale.
Geeksphone Peak hands-on
Firefox OS devices are one of the most intriguing here at MWC, and Geeksphone were first to officially unveil a device, running the Mozilla smartphone OS. As such, we were interested to see the Geeksphone Peak smartphone running a developer's preview of Firefox OS and get a taste of how the OS runs on a dual-core chip.
The centerpiece of the Geeksphone Peak is a 4.3" IPS display with qHD resolution. It's an okay looking display, but its nothing impressive. Obviously, it doesn't need to be anything special, since the device is primarily aimed at developers to test out their Firefox OS apps.
Still, this doesn't mean that it shouldn't be put properly together. We found the all-plastic body to be on the cheap side, and not having the greatest build quality.




The Geeksphone Peak hands-on
The Geeksphone Peak is powered by a 1.2GHz dual-core Snapdragon S4 chip with 512MB of RAM. It's not a powerful chip by any stretch of the imagination and ran Firefox OS with a considerable amount of hiccup - evidently, the new OS requires a more potent hardware or further optimizations.
Which doesn't mean that Firefox OS isn't shaping up as a nice budget proposition. It's still sluggish even in basic UI interactions. Switching between apps is glacially slow, and running apps is even more painful to watch.
We focused our attention on the web browser in Firefox OS, which is essentially, well, Firefox, and it's exactly what you'd expect - the regular user interface of the app. Unlike Android, though, it's does not run that well.
Here's a quick hands-on video of the Geeksphone Peak, running Firefox OS.
For what it's worth, the Geeksphone Peak is an all-around acceptable phone both in its aesthetics and muscle abilities. Mind you, it is visiting MWC in a still unfinished form, meaning that nothing you see is final. We hope Geeksphone put their back to it, or the Geeksphone will end up being a major disappointment instead of winning the hearts of the Firefox OS fans.
NEC Medias Tab UL N-08D hands-on
Here's our encounter with the NEC Medias Tab. It's a lightweight 7" tablet, running Android Ice Cream Sandwich, has two sets of cameras (2 MP front-facing and 8.1 MP on the back), 16 GB of storage, is powered by a dual-core 1.5 GHz Krait processor and 3100 mAh battery.
The device weighs only 249 grams and is 7.9 mm thick, which are two impressive measurements in their own merit. The iPad mini feels like a burden to lug around in comparison.
Now comes the most notable feature in the bunch. The 7" screen is an AMOLED unit of 1280 x 800. Despite what pixel density numbers may have you believe this is a really good screen. It's got the characteristic great contrast, deep blacks and popping saturated colors. It's a real joy, coupled with the low weight and overall manageable form factor.



Medias Tab UL N-08D
We're not too fond of the design, however. The bezels around the beautiful screen are too big, which comes close to ruining the entire viewing experience.


Medias Tab UL N-08D
Despite the capable processor on tap the Medias Tab doesn't inspire with its performance. It's not bad but it's far from the snappy buttery smooth performance we're accustomed to with Jelly Bean.
As this is a Japan-bound device for DoCoMo's network it features a SIM card slot that gives you data over the carrier. The Medias Tab is already selling in Japan with no details concerning outside availability.