Introduction
Key features
Point and shoot camera with 21x optical zoom and optical image stabilization

Wide-angle 23mm lens, 1/2.3" sensor, 16.3MP resolution

Xenon flash

1080p HD video recording at 30fps; 720p High Framerate video recording at 60fps; 768x512 120fps slow-mo

4.8" 16M-color Super Clear LCD capacitive touchscreen of HD (720 x 1280 pixel) resolution; Corning Gorilla Glass 2

Android OS v4.1.2 with TouchWiz launcher

1.4 GHz quad-core Cortex-A9 CPU, Mali-400MP GPU, Exynos 4 Quad chipset, 1GB of RAM

100Mbps LTE (market dependent)

Quad-band 3G with 21 Mbps HSDPA and 5.76 Mbps HSUPA support

Dual-band Wi-Fi 802.11 a/b/g/n

GPS with A-GPS connectivity; GLONASS support, Digital compass

microHDMI TV Out

Standard 3.5 mm audio jack

Stereo Bluetooth v4.0

8GB internal storage, microSD slot

File manager comes preinstalled

Extremely rich video and audio codec support

Accelerometer and gyroscope sensor
Main disadvantages
Image quality leaves a lot to be desired

Lens is not dust tight

Big for a point-and-shoot

Small 1,650mAh battery

No video light
Design and build quality
Display test

50% brightness

100% brightness

Black, cd/m2
White, cd/m2

Contrast ratio

Black, cd/m2
White, cd/m2

Contrast ratio

Samsung Galaxy Camera

0.26

224

849

0.57

484

843

Samsung I9300 Galaxy S III

0

174

∞

0

330

∞

Nokia 808 PureView

-

-

-

0

455

∞

Nokia Lumia 920

-

-

-

0.48

513

1065

Apple iPhone 5

0.13

200

1490

0.48

640

1320

Nexus 4

0.22

314

1447

0.45

608

1341
Contrast ratio
User interface
Camera with OIS and 21x zoom
Photo quality comparison
Video recording introduces 60fps mode
Video quality comparison
Gallery and file browser
Instagram, image and video editors
Lower is better
Higher is better
Higher is better
Higher is better
Higher is better
Higher is better
Higher is better
Lower is better
Higher is better
Higher is better
Standard TouchWiz phonebook
While the Samsung Galaxy Camera doesn't have telephony features, it still has the standard TouchWiz Contacts app. It packs a wide range of features and since contacts are synced with Google's servers, you'll quickly get the same contacts on the Camera that you have on your Android phone.
The Contacts app is organized into three tabs - Groups, Favorites and Contacts. As usual, there are various options to filter contacts by phone numbers, groups and multiple sorting. You can swipe a contact to the left to jump straight to the SMS composer (but swiping to the right for calls doesn't work, obviously).
Tapping on a contact reveals all the details available. If you and the contact are using Gtalk, there will be a second tab available here, showing the latest message from that contact.
Anyway, going back to the contact info, it's perfectly organized into different sections for phone, email, etc. Again, you can text or email a contact with the Samsung Galaxy Camera, but not call them (at least until someone figures out how to enable telephony over 3G).
If the phonebook finds duplicate contact entries, it'll prompt joining them. Furthermore, there're a plethora of options once you hit the Menu button. You can view the call history, as well as join, unjoin and share contacts.
There's plenty of contact information you can assign to each contact and it still remains neatly organized. You have all the types listed (numbers, email addresses, etc) and, just like the previous version of TouchWiz UI 4.0, there's a plus sign on the right - tapping it adds another item of that type. Pressing the minus sign under it deletes the unneeded field.
Of course, the real flexibility of the phonebook becomes apparent when you sign into your social networks. After syncing, the phonebook will automatically merge contacts (you can do it manually too), so that the contact details are pulled from the social networks too.
We tested the loudspeaker performance of the Samsung Galaxy Camera. It's not the loudest, but it's good enough for reviewing videos you've shot or watching a movie.
Speakerphone test
Voice, dB
Pink noise/ Music, dB
Ringing phone, dB
Overal score
Nokia Lumia 920
61.6
64.8
65.8
Below Average
Samsung Galaxy Camera
61.8
60.7
66.6
Below Average
Apple iPhone 5
66.8
66.1
67.7
Below Average
HTC One X+
64.6
65.8
74.6
Average
Samsung I9300 Galaxy S III
75.1
66.5
75.0
Good
Samsung Note II N7100
70.0
66.6
80.5
Good
Nokia 808 PureView
71.1
64.6
78.0
Good
Google Nexus 4
71.0
66.6
78.8
Good
Motorola RAZR XT910
74.7
66.6
82.1
Very Good
LG Optimus G
74.6
71.3
82.7
Excellent
Samsung Ativ S
73.7
73.5
82.7
Excellent
Sent from my camera: texting and email
The messaging department is quite straightforward: you get a list of recent conversation threads and a compose message button, that's it. There's application-specific search that lets you quickly find a given message among all your stored SMS and MMS.
Message threads are shown with speech bubbles, similar to an IM program. Composing a message is easy - you type in the name of the recipient (only a few letters will do, you'll get autocomplete suggestions) and then type your message (there's a char and message counter on the right). If you attach multimedia to the message, it will be turned into an MMS message.
Moving on to email, the Gmail app has grown handy shortcuts at the bottom of the screen but is mostly unchanged. It supports batch operations, which allow multiple emails to be archived, labeled or deleted. The default app supports multiple Gmail accounts, but there's no unified inbox. A convenient feature allows you to swipe sideways to move between messages.
There is also a generic email app for all your other email accounts and it can handle multiple POP or IMAP inboxes. This one has much of the same features as the Gmail app like batch operations and swiping between messages (though this isn't as nicely animated). It has a color-coded Combined inbox, which makes it easy to manage multiple email accounts.
Google Talk handles the Instant Messaging department. The G-Talk network is compatible with a variety of popular clients like Pidgin, Kopete, iChat and Ovi Contacts.
Text entry is handled by the standard Samsung QWERTY keyboard, which offers very big and comfortable keys. If you're going to type in landscape mode, you'll have to surrender most of the screen to the keyboard, which leaves little for the message box.
The Samsung keyboard packs some cool features out of the box. By default a horizontal swipe will switch the case (upper or lower), but you can enable continuous input, which is similar to Swipe and the like. You can use the built-in offline voice recognition to dictate the message too.
There are two other modes: one for handwriting recognition and one that shows the recent items in the clipboard.
TouchWiz music player
Impressive video player
Excellently clean audio output
| | | | | | | |
| --- | --- | --- | --- | --- | --- | --- |
| Test | Frequency response | Noise level | Dynamic range | THD | IMD + Noise | Stereo crosstalk |
| Samsung Galaxy Camera | +0.12, -0.14 | -82.7 | 82.8 | 0.012 | 0.023 | -80.5 |
| Samsung Galaxy Camera (headphones attached) | +0.04, -0.14 | -82.6 | 81.4 | 0.0083 | 0.097 | -60.0 |
| Samsung Galaxy Premier | +0.12, -0.05 | -82.9 | 82.9 | 0.016 | 0.025 | -82.2 |
| Samsung Galaxy Premier (headphones attached) | +0.16, -0.07 | -82.5 | 82.5 | 0.242 | 0.174 | -58.6 |
| Samsung I9300 Galaxy S III | +0.03, -0.05 | -90.3 | 90.3 | 0.012 | 0.018 | -92.6 |
| Samsung I9300 Galaxy S III (headphones attached) | +0.11, -0.04 | -90.2 | 90.2 | 0.0092 | 0.090 | -53.1 |
| Samsung Galaxy Note II N7100 | +0.03, -0.04 | -90.2 | 90.1 | 0.0098 | 0.016 | -90.7 |
| Samsung Galaxy Note II N7100 (headphones attached) | +0.11, -0.06 | -90.1 | 89.2 | 0.0067 | 0.034 | -55.3 |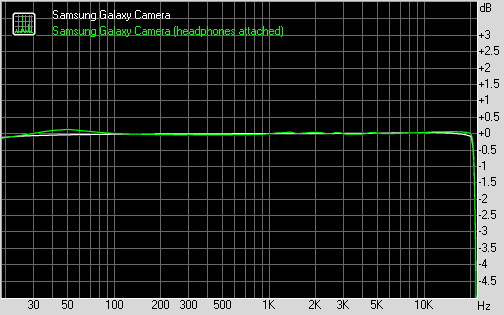 Samsung Galaxy Camera frequency response
You can learn more about the whole testing process
here
.
The best connected camera
The Samsung Galaxy Camera has quad-band 3G data connectivity and, in some regions, LTE. You can't do voice calls (we tried with a third party dialer), but you can send SMS messages.
If you don't want to pay for network data, you can stick to the dual-band a/b/g/n Wi-Fi. Bluetooth 4.0 and Wi-Fi Direct are supported as well.
AllShare Play comes preinstalled on the Galaxy Camera - it connects to web storage (Sugar Sync or Dropbox, there's free 5GB on Sugar) and your other devices that run the app and you can view content on the current device or push it to another (e.g. a Smart TV).
A microHDMI port allows you to easily show off your photos and videos on an HDTV, though it's at the bottom of the Galaxy Camera, which means you'll have to rest the device on its lens barrel.
On a side note, you can use the Samsung Galaxy Camera for voice conversations as long as you use something like Skype or Viber. We tried it out with Viber and it worked (in loudspeaker mode, obviously, you can't hold the Camera up to your face). The built-in mic didn't work too well for that purpose though, but a wired hands free headset worked like a charm.
A desktop-grade Web browser
With Android Jelly Bean and a quad-core processor, not to mention a large 720p screen, the Samsung Galaxy Camera is quite good at web browsing.
The browser offers all the niceties you're used to on an Android phone - multiple tabs, text reflow, find on page, request desktop page and so on. You can also save pages for offline reading and adjust the screen brightness. A neat trick is to pinch zoom out beyond the minimum - that opens up the tabs view.
Incognito mode is available (the browser stops recording history and cookies) as is our favorite Labs feature, quick controls.
Flash isn't available out of the box, but you can install the APK manually and it will work - both 1080p YouTube videos and games worked fine.
The Chrome browser is also available out of the box - while the stock Browser is very good (most people prefer it), Chrome can sync tabs and bookmarks with other Chrome browsers you're running on your computer, tablet or phone.
Complete organizer
The Samsung Galaxy Camera comes with Samsung's S Planner calendar. It has several different types of view: year, month, week, day along with list (agenda) and tasks lists. Adding a new event is quick and easy, and you can also set an alarm to act as a reminder.
There is also a calculator aboard. It is nicely touch optimized with big, easy to hit buttons and some advanced functions.
The Samsung Galaxy Camera features a decent alarm clock application which allows a huge number of alarms to be set, each with its own start and repeat time, ringtone and note.
The Clock app also comes with a stopwatch, timer and a world clock. The Desk clock mode displays the time along with weather info and a calendar.
Google Maps
The Samsung Galaxy Camera comes with a built-in A-GPS receiver that is used to geo-tag photos, but also gives you access to the full Google Maps functionality.
Maps have several view modes and two-finger tilt and rotate are enabled. A long press on the map will bring up more info about that area, including a local search for anything you can think of (cafes, restaurants, ATMs, etc.). Street view is also a part of the Google Maps package.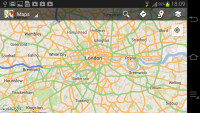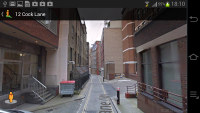 Google Maps • Street view
Vector maps are quite data-efficient and you can save even more traffic by caching areas of the map for offline use. You can't download an entire country, but you can cache all of London, for example, in just 30MB. If Navigation is available in your country, you can use that along with offline rerouting (but not offline route planning).
Google Play Store
The Google Play Store is what sets the Samsung Galaxy Camera apart from other digicams. Emails, web browsers and the rest of the features are cool, but with the Play Store you can extend the functionality much further. That means new camera apps, new image editors, new ways to sync your images, you're not stuck with what the manufacturer chose to install at the factory.
The interface features several scrollable tabs - categories, featured, top paid, top free, top grossing, top new paid, top new free and trending. Apps usually have several screenshots (some even offer a demo video) so you can get an idea of what the app looks like before installing it.
You can also check out comments and ratings, as well as the number of downloads and so on, to help you decide if the app is worth it.
The Google Play Store is full of all sorts of apps - everything from camera apps, music / video players, to file managers and various tools, you'll always see something worth a try.
It's not just apps though - depending on your country, the Store will also offer music, movies, magazines and books.
Final words
The Samsung Galaxy Camera is a rare breed of didgicam. This Android-powered connected camera is stuff typically shown off at tech exhibitions to wow the crowd and soon be forgotten by its maker. But the Galaxy Camera is the real deal - it's available right now.
The difference between the Galaxy Camera and a Samsung Smart Camera is very much like the difference between a PC and a tablet. Tablets are cheaper but are good at some things and bad at others, while PCs tend to be pricier but are general purpose workhorses.
Here's a scenario of what you can do with the Galaxy Camera. You can broadcast video live of an event (there are several apps that do this, including Google+ Hangouts on Air), even if you can't get close (e.g. you're sitting at the back row) and get a steady shot even if you have to zoom in thanks to the Optical Image Stabilization.
Then when it's time to get up close, you can snap several photos, upload them anywhere they need to go (Picasa, Dropbox, Facebook, you name it) and write a blog post to go with them, say with a dedicated app (e.g. WordPress for Android) or a custom web-based interface you normally use on the computer or a tablet.
That's a lot like what we need to do during CES or MWC, except these events don't usually allow you to do your own video stream, but you get the idea. It's great that you get all this functionality in one package that can be adapted to your individual needs, but there are several big issues.
First, if you're doing professional work you'll want good image quality and the Samsung Galaxy Camera just doesn't cut it, certainly not when others are using micro four thirds and up. Second, the 1,650mAh battery will get drained pretty quickly, especially if you use a wireless connection, you'll have to carry one or more spares.
And third, very few people actually need all this functionality - most will just use the camera and only occasionally tap into the Android side of things. The Galaxy Camera is already dropping in price and it might reach a point where the extra cost over a regular camera is justified, but it's not there yet.
So, while the Galaxy Camera shows great promise, for now it's more prudent to use a regular camera with Eye-Fi or a USB Host adaptor hooked up to a Galaxy S III. You lose the convenience of having it all in one package, but the functionality is pretty much the same and you get to pick a camera + Android phone combo that works for you (the Galaxy S III was just an example, you can go with a Motorola MAXX phone for the amazing battery life or even a tablet, whatever works for you).
In the end, the Samsung Galaxy Camera is let down by the quality of the photos it produces - very few (if any) people will need the advanced on-board functionality offered by Android and be okay with a camera that can't beat a cellphone camera. But we'd love to see a sequel - especially if Samsung takes its usual approach to covering the entire range. Now that they have made a point with the versatile zoom, something more compact and with a larger sensor would be most welcome.