Introduction
It won't be long before those full-HD five-inchers start stealing the show and the older Xperia generation should be preparing for life in their shadow. It doesn't mean though that the Xperia V cannot hope for a good time.
We don't see why a phone with dual-core Krait and an LTE connectivity shouldn't enjoy life in the midrange. OK, the upper midrange - but the Xperia V isn't easily caught off guard. Of course, people are not as easily impressed today as, say, a year ago. Yet, a select few phones are willing to offer 1080p videos and 13MP stills, while putting an HD touchscreen at your fingertips.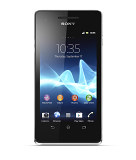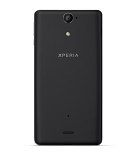 Sony Xperia V water-resistant phone
And there's more to the Xperia V than that. It's more durable than your average smartphone without looking like an army bot. You should've figured it by now, what we have here is a dust and water-resistant Xperia T with 4G connectivity and a tad smaller screen. Oh, well they needed to make sure the wetsuit would still fit the user.
Key features
Quad-band GSM /GPRS/EDGE support
3G with 42.2 Mbps HSDPA and 5.76 Mbps HSUPA
LTE Cat3 DL 100 Mbps UL 50 Mbps
4.3" 16M-color capacitive LED-backlit Reality LCD touchscreen of 720p resolution (720 x 1280 pixels) with Sony Mobile BRAVIA engine 2; Scratch-resistant glass
Android OS v4.0.4 Ice Cream Sandwich, Jelly Bean coming up
IP57 certified for dust and water resistance, up to 1 meter immersion for 30 minutes
Dual-core 1.5 GHz Krait CPU, 1 GB RAM, Adreno 225 GPU, Qualcomm Snapdragon MSM8960 chipset
13 MP autofocus camera with LED flash and geotagging, Superior Auto mode
1080p video recording @ 30fps with continuous autofocus and stereo sound
VGA front-facing camera
Wi-Fi a/b/g/n with DLNA, Wi-Fi Direct and hotspot
GPS with A-GPS, GLONASS
8GB of built-in storage, microSD card slot
microUSB port with MHL and USB-host support
Stereo Bluetooth v4.0
Standard 3.5 mm audio jack
Stereo FM radio with RDS
Voice dialing
Deep Facebook integration
PlayStation Certified, access to the PS Store
Accelerometer and proximity sensor
NFC connectivity
Main disadvantages
No JellyBean at launch
Relatively modest battery capacity
Video recording fails to impress
No hardware shutter key
Comes across as overpriced
The one thing that doesn't help Sony look particularly good is the tardy arrival of the latest software. The Xperia V is still to get Jelly Bean - and it will most likely be JB 4.1. There have been reports of Sony pushing back the Xperia V's launch on certain markets to put the latest software in. That makes sense but is perhaps part of the reason for the limited supply, that's been keeping prices quite high.
A bit of a vicious circle there, not too good for Sony, but hopefully not for long. Hopefully, the Xperia V should be getting the Jelly Bean treatment as early as February.


The Sony Xperia V at HQ
Elsewhere, the Sony Xperia V makes a pretty strong case for itself. The HD display is looking good, the camera on the back is ready to serve 13MP stills, there's LTE and the dual-core Krait is humming along. And the Xperia V is ready to take calls at the poolside or in the shower.
Sounds like an exciting package, and good-looking too. Hit us up on page 2 and let's get started.
Unboxing the Xperia V
The Sony Xperia V arrives in a simple flat box with the standard peripherals: an A/C adapter, a microUSB cable and a headset with three earbud sizes and a lapel cilp.
No NFC tags were to be found - these are consistently being omitted recently, which is a bit strange considering cheaper Sony smartphones used to have them bundled. It could be either that Sony don't see much point anymore in promoting a technology that should be well familiar by now, or the tags are market-specific accessories.


The Xperia V retail box
Sony Xperia V 360-degree view
The Xperia V measures a reasonable 129 x 65 x 10.7 mm and weighs 120 g. The handset definitely looks heavier than that and we were quite surprised by its lightness the first time we handled it. Nothing wrong, mind you - the Xperia V has a very pleasant feel in hand. The Xperia T, in comparison, weighs a good 20g more but we wouldn't say the V lacks substance.
What we didn't quite like about the Xperia V, and it shouldn't be a surprise to anyone who has handled the Xperia T, is the excessive bezel top and bottom of the screen. With on-screen controls requiring no extra space, it seems this could've easily been a smaller package. The Xperia V is nearly the same size as the 4.7-inch HTC One X, but with a 4.3" of screen diagonal.
To be fair though, the Xperia V is IP57-certified for dust and water-resistance, so the overall superior durability may be a fair trade to many.
Design and controls
The Sony Ericsson legacy is still firmly felt across the new Xperia line of smartphones - in this case the Xperia Arc takes the credit. Of course, the Xperia V is a minor redesign of the Xperia T, and once again we're impressed with the subtlety of the curved shape and the overall finish.
The Xperia V is all plastic but has no glossy parts whatsoever. The most prominent difference - which we think is well in favor of the V - is the dark chrome frame that separates the back and front.
The handset's back feels rubbery to the touch and is quite nice to hold.
Above the 4.3" Reality display there's an earpiece, a VGA camera, ambient light and proximity sensors and a notification LED.

The Xperia V
The VGA front-facer on the Xperia V isn't quite up to par with the 13 MP around back - that's one of the things getting downgraded from the Xperia T. The Bond phone had a 1.3MP front cam.
Under the display there's nothing but blank space. Sony is done with physical buttons and not looking back. The Home, Back and Task switcher keys are right onto the touchscreen panel.


Up and under the display
The power button and volume rocker are placed near the top on the right side of the Xperia V. Both buttons are slim but prominent enough and solid to press. This is the perfect placement for right-handed users, but lefties may find it hard to reach the controls with an index finger.


The right side
The bottom of the Xperia V features only the primary microphone. There's a tiny slit on the back panel to place a fingernail and pull it open.


On the bottom
The covered microUSB port is on the left side. Further down on the same side are the dock pogo pins.


On the left side
The 3.5 mm headphone jack is at the top, sealed with a plastic lid again, to ensure the water resistance.


The microUSB port at the top
The back panel is entirely made of plastic but with a rubbery finish, which not only is a pleasure to hold but has anti-slip properties too.
The 13 MP camera lens is located in the top with the secondary, noise-reducing microphone next to it. A single LED flash is below the lens and, a little further down, an Xperia logo.
Centrally-placed at the very bottom is the loudspeaker grille, which is small and designed as to not let water in. It still sounds decent though, unlike on the acro S.
A tiny pinhole above the loudspeaker grille, matched by a membrane on the inside of the battery cover, is a water sensor which however is of no value to the user. It will only let the people at a Sony service center know if the limits of safe operation have been exceeded.
There are no water resistance warnings on the Xperia V - unlike the Xperia Active, which would warn you when the flaps of the connectivity ports have been undone.



The back panel
Removing the panel is perhaps too easy for an IP57 certified device (though we have no reason to question the water-resistance claims) and doing so reveals an insulating trim of rubber on its inside, to protect the innards from getting wet in an event of water making its way inside.
The 1750 mAh Li-Ion battery is said to offer 300 or 400 hours of stand-by (2G/3G), 7 hours of talk time on either network and 18 hours of music playback (in airplane mode).
Our real life tests show an endurance rating of 30 hours, meaning an hour of calling, browsing and video will result in the phone being charged every 30 hours.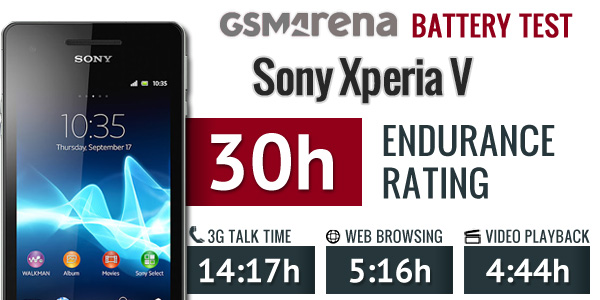 Some users have reported the so called Sleep of Death issue with the Xperia V. When the phone stands idle for a couple of hours (mainly during the night) it freezes itself and can then be powered on only after removing the battery. We experienced the issue a couple of times too, but after updating the phone to the latest firmware (9.0.1.D.0.10) the issue seemed to be resolved.
However some users are reporting than the update hasn't done the trick for them and the bug is still present even after the latest update. Others report the Xperia V heats up prior to freezing and loses battery fast, but we didn't observe such a phenomenon.
Sony has already acknowledged the issue and has promised it is working on a fix. However there's no info when exactly we might expect that.
The SIM card and microSD slots are placed one above the other and the battery needs to be removed to access either of them. Now, a water-resistant phone is one of those rare occasions where a non-hot-swappable memory card slot actually makes sense.



Under the hood
Display
The Xperia V displays everything in 720p resolution on the 4.3" Reality display. With Full HD screens already upon us, the Xperia V will find it hard to get anyone impressed, but to be fair, the screen is well above average. At 342ppi, the Bravia-backed Reality display is quite sharp and pleasant to look at.
Sony used the second generation Mobile BRAVIA engine for the Xperia V and it's supposed to improve contrast and enhance colors. In reality, viewing the screen head on will leave you pleased but as soon as you tilt the device to the side even slightly, the colors begin to look washed out and contrast is heading south at a frightful pace.
It's by no means a deal breaker and most people should be happy with the Xperia V's screen most of the time.

The Xperia V
The display uses a standard RGB matrix arrangement, which you can see in the picture below. As for contract itself - it's passable but far from the standard setters.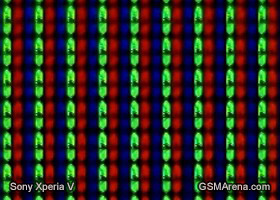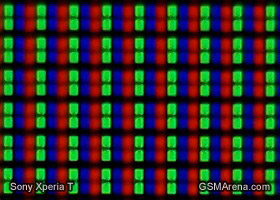 The Xperia V and Xperia T displays under a microscope
Contrast ratio
Nokia 808 PureView

4.698

HTC One X

2.158

Nokia N8

2.144

Apple iPhone 4

2.016

Sony Ericsson Xperia ray

1.955

Samsung Galaxy Camera

1.938

Sony Xperia V

1.792

Sony Xperia U

1.758

LG Optimus 4X HD

1.691

HTC One V

1.685

LG Optimus Vu

1.680

HTC Desire V

1.646

Samsung Galaxy mini 2

1.114
Handling
The Xperia V isn't the most compact of smartphones with a 4.3" screen but the surprisingly lightweight body is a pleasure to handle, and the finish is great.
Single-handed operation is very comfortable and the dust and water resistance are something many users will appreciate. The flipside is a non-hot-swappable microSD card and the absence of a proper shutter key.


The Xperia V held in hand
Overall though, it's a great-looking smartphone - without overdoing it - and one that's very secure and comfortable to hold.
Ice Cream Sandwich at the forefront
The Sony Xperia V runs Android 4.0.4 Ice Cream Sandwich out of box but Sony is reassuring users that an eventual Jelly Bean is in the works for this year. If you are not familiar with the features specific to the various Android versions, make sure you check out our
dedicated Android version scoop
.
If you're familiar with Sony's latest Android UI, the Xperia V should look familiar. Sony has smothered Android 4.0.4 with its custom launcher, which runs much deeper than skin-deep. This isn't the first time we've seen ICS on a Sony device either, things are undistinguishable from the Xperia T.
Here's our rundown of the Xperia V.
The Xperia V has the usual five-pane homescreen configuration, but there is no option to add or remove panes. Along the bottom, there are five docked shortcuts (the app drawer shortcut and two on each of its sides). These are visible across all five homescreen panes and are user configurable: they can be either single icons or folders with multiple items in them. For folders, you get smaller icons of the first four items in them.
As with older Sony smartphones, you can change the color theme of the launcher according to your preferences.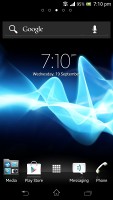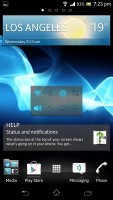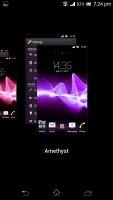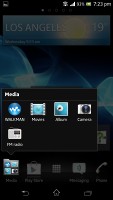 The Sony Xperia V UI • Choosing theme • Folders
The homescreen does a neat trick called Overview mode, which lets you quickly find a widget across any of your homescreen panes. Pinch to zoom out on any of the 5 homescreen panes and a new screen opens up showing all active widgets for easy viewing and selection. Tapping on a widget takes you directly to the homescreen that it is on.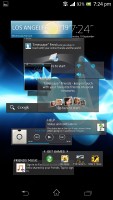 Overview mode helps you find the widget you are looking for
The Xperia V has some custom-made Sony widgets in addition to the standard set. Those include the Timescape widget (there's a dedicated app too) and a Mediascape-like widget for photos and videos (the actual app isn't there anymore, but the Album gallery is).
Pressing on an empty area of a homescreen opens up a small contextual menu under the status bar. It gives you two options - choosing a widget and choosing a wallpaper/theme. It's oddly placed and easy to miss at first because the animation is so understated it looks as if nothing has happened.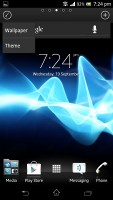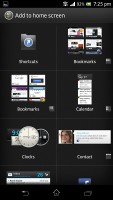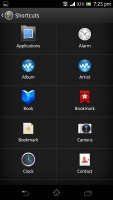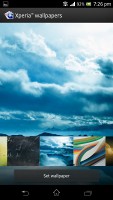 The new personalize menu is a lot less obtrusive • Choosing a widget • The wallpaper menu
Moving and removing widgets hasn't changed and is as simple as on droids of old - hold a finger over a desired widget and move it around. The action has a cool wobble animation to it.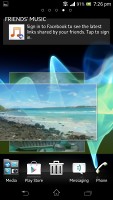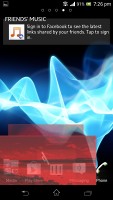 Moving and deleting widgets
A cool new addition to the lockscreen, missing from the Xperia phones of old, is the Walkman widget which lets you control music playback without unlocking the phone. You can also enable Face, Pattern, PIN or Password unlock, in ascending order of security.
The standard notification area is also present, and features a few added toggles - sound, Bluetooth, Wi-Fi, mobile data and the settings shortcut. There's also a quick shortcut to the settings menu. For some reason, the notification area isn't accessible from the lockscreen as it usually is on other ICS-running phones.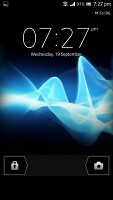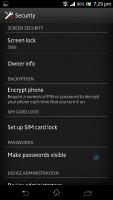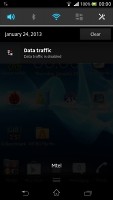 The lockscreen • Lockscreen options • The notification area now has a few connectivity shortcuts
There's also a brand new task manager, which still lets you go to open apps as well as remove them with a side-swipe, but also introduces something we haven't seen in Sony ICS before, and that's 'small apps'. They are similar to Mini Apps from Samsung, and pop up tiny widget-like applications on your homescreen, which you can use in an overlay mode without having to fully open a dedicated app. So far, there's a default set of four: Calculator, Timer, Notes, and Voice Recorder - and it looks like you should be able to stock up on some more from the Play Store as well.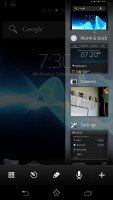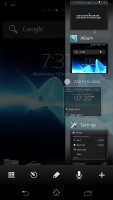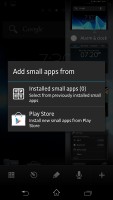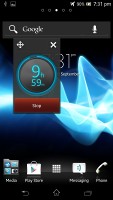 The updated task manager now features 'small apps' • The Timer small app
As a part of the ICS platform you get the Data usage app. Sony provided one on Gingerbread as well, but this one is far more accurate in calculating your traffic. It also lets you set a limit for network data for a specific period and usage is broken down by apps.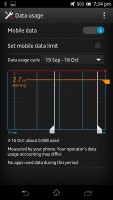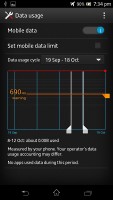 Data usage app
Sony has added its own Backup & Reset feature for Android ICS. It works for apps you've uninstalled and then reinstalled again, restoring them with the previous saved settings. The reset option is in the same submenu.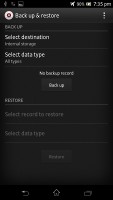 Backup & reset
Sony has made a lot of improvements to its ICS build - like the notification area toggles, but it's still missing a few extras that are some that other OEMs are opting for. For example, Samsung has a
Remove all
feature when you open the task switcher, and most Android UI's let you adjust the number of homescreen panes. There're also no widgets in the app drawer, which is slightly inconvenient.
Synthetic benchmarks
The Sony Xperia V is powered by a Qualcomm MSM8960 chipset with two Krait cores, clocked at 1.5 GHz. Graphics are handled by an Adreno 225 GPU and there's 1 GB of RAM on board.
This setup is more than qualified to handle the screen's 720p resolution and more demanding tasks like decoding and encoding 1080p video, not to mention running Android OS smoothly. Things, in theory, should be running even smoother on Jelly Bean.
For testing the Xperia V performance we begin with Quadrant. Here the Xperia V did a stellar job against equal competition. It outperformed the Xperia T by a wide margin, too.
Quadrant
Higher is better
BenchmarkPi
Lower is better
Geekbench 2
Higher is better
BrowserMark 2 is an HTML 5-based benchmark, which shows the Xperia V as a top contender.
And finally comes Vellamo's HTML 5 benchmark. The Xperia V shows a good result here too, once again besting more powerful smartphones.
SunSpider
Lower is better
BrowserMark 2
Higher is better
Vellamo
Higher is better
Luckily, the Xperia V handles that very well too and didn't slow down not even once during our time with it. We're sure Jelly Bean will speed things up when it comes to the OS animations but the Xperia V is in a great shape even on ICS.